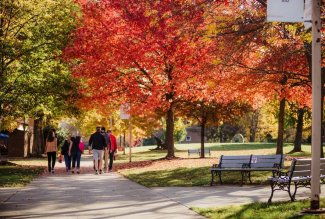 Ohio Northern University has even more to celebrate during its 150th anniversary: Fall '21 enrollment and retention numbers have markedly risen, surpassing even pre-pandemic levels.
Exceptional Statistics:
• Overall enrollment rose 10.7%, to 3,116 students, the most attending since Fall 2015.
• First-year students total 738. They represent the largest freshman cohort in 13 years.
• First-year retention for the Fall 2020 cohort was 87%, the highest rate since Fall 2013.
Administrators say several factors contributed to ONU's strong enrollment and retention numbers, but point out that its outstanding academic offerings, uninterrupted in-person learning and on-campus tours, and individualized service have been very influential.
"Students selected ONU because they recognize the value of a high-quality academic and student-engagement experience that is affordable due to the University's commitment to generous financial aid," says William Eilola, vice president for enrollment management. "Our continued high retention rates and strong outcomes demonstrated by high placement rates indicate a strong return on investment for students and their families."
Even throughout the pandemic, families and prospective students have benefited from one-on-one interactions with representatives from entities such as the Student Success Center, Financial Aid, Student Affairs, faculty advisors and more, which provides them with robust information and an enhanced cultural perspective pertaining to Ohio Northern. This holistic approach is carried through each student's entire academic career at ONU thanks to coordinated and cross-departmental effort from faculty and staff.
"We're known for providing a strong and diverse support network that helps our students thrive," says Lynda Nyce, Ph.D., interim associate vice president for academic affairs. "Multiple resources are available across campus that focus on priorities such as academic success, wellness, cultivating a sense of belonging, and developing skills for life."
ONU's consistently high rankings are an added incentive to earn a degree here. For instance, U.S. News & World Report ranked Ohio Northern No. 3 on its Best Regional Colleges in the Midwest list and No. 4 on its Best Value in the Midwest list for 2022.
"We're thrilled that so many students are choosing ONU," says President Daniel DiBiasio. "What they learn here will enable them to pursue careers that will positively impact the world. These enrollment figures are also a testament to our outstanding and caring faculty and staff who provide students with unparalleled learning and life experiences."
Other first-year enrollment statistics:
• 81% of students are from Ohio.
• Students from 26 other states are enrolled.
• First-year students from six other countries are attending.