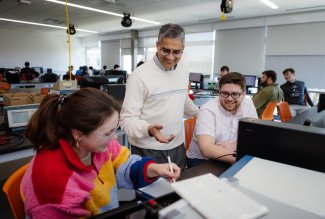 Ohio Northern University's T.J. Smull College of Engineering received a $748,839 grant from the National Science Foundation to assist academically successful students who are financially challenged. The grant will enable ONU to provide them with significant scholarships and programming. Beginning in Fall 2023, the S-STEM grant, the first NSF S-STEM award for ONU, will support 15 Scholars.
Students who are accepted into the program will receive a $7,750 scholarship renewable for four years. Five first-year students per year will be selected annually for three years, for a total of 15 Scholars. Along with the much-needed financial assistance, they'll benefit from mentorship, research opportunities with faculty, other educational programming such as a guest speaker series, and specialized learning that focuses on helping them succeed in college.
"We're grateful to the National Science Foundation for its substantial support of our program. We're eager to provide the additional resources to students who more than deserve them and who will benefit tremendously from them," said College of Engineering Dean John-David Yoder, Ph.D.
ONU President Melissa J. Baumann, who was a first-generation college student, said she knows the difference that extra help, in any form, can make when it comes to pursuing a degree. "Let's face it, getting through college is an exhilarating and demanding effort. That's why this NSF grant is huge for us, and an even bigger win for our 15 future Scholars. It represents a federal-level endorsement of ONU's mission to assist and empower students, especially those who have less to start with but who have what it takes to advance in ways they have yet to even envision."
With this grant, ONU intends to better address the gap in retention and graduation rates exhibited by students who have less support – financially and culturally from a higher-education standpoint – than their peers. Not only do some students have less money to fund their education, but have less knowledge and support when it comes to university learning and life. Essential elements inherent to the undergraduate experience, such as scheduling classes, determining the best ways to study for exams, effectively managing stress and incorporating fun activities for a balanced life can be daunting.
The University has found that some of these bright and promising students who are less privileged in other respects struggle in ways that prevent them from finishing their degree. ONU has already been attracting these students to its premier engineering programs, but when compared with the general student body, their graduation rates are significantly lower, according to Larry Funke, Ph.D., assistant professor in the Dr. Carl D. Clay and H. Jane Clay Department of Mechanical Engineering.
"How do we do these students justice? How can we identify their strengths and use those to move them forward? How do we teach them to support themselves and each other, and to improve their study skills? If we can provide them with additional resources…, then maybe we can level the playing field," says Funke, who is spearheading the Scholars program along with College of Engineering Dean John-David Yoder, Ph.D.; Stephany Coffman-Wolph, Ph.D., assistant professor of computer science; and Seyed Ardakani, Ph.D., assistant professor of civil engineering.
Dedicated student cohorts will provide a more concentrated level of peer-support and cohesion that faculty and staff will rely upon to bolster student confidence and skills as they're providing additional opportunities such as guest speakers, workshops and research projects. The cohort structure will illustrate to students that they're not alone in their challenges, give them a chance to bond, and better encourage them to academically soar.
"With this program, it really enables us to be much more proactive with students who may otherwise slip through the cracks," says Funke. "If there are any issues, we can likely catch them early and address them before they're too problematic."
The program has three student-centric goals:
Increase the College of Engineering's four-year graduation rate and job placement rate by addressing the identified primary reasons student leave (financial, personal and academic);
Increase the sense of belonging in engineering and at Ohio Northern University; and
Increase students' self-efficacy in their abilities as engineers.
The S-STEM Scholars program will also offer benefits from a wider perspective. According to the U.S. Bureau of Labor Statistics, between 2019 and 2029 STEM occupations will experience an 8% growth with computer occupations alone experiencing an 11.5% growth. More STEM graduates will address the impending skilled worker shortage.
The robust grant that is funding this endeavor is a testament to the College of Engineering's existing successes, some of which include a reputation for excellence, stellar job placement rates and high rankings. U.S. News & World Report recently ranked ONU engineering at No. 21 nationally for undergraduate programs that don't offer a Ph.D. program.
"The NSF is looking for sure bets and determined ONU is one of those," Funke says, "in part because of the compassionate academic relationships that faculty cultivate with students."
"The vast majority of our time, we (faculty) are in our offices with the doors open. When a student walks by, whether it's office hours or not, we welcome them and want to talk to them. It's that sort of accessibility and care for our students that matters. We already have that track record of success. I think continuing that and having the opportunity to have a more intentional mentoring cohort will really drive that home for our future Scholars," he notes.