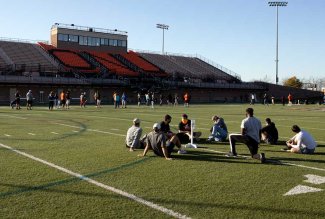 Series of campus-wide events brings students, faculty and staff together in support of diversity, equity and inclusion at ONU
One of Ohio Northern University's defining traits has always been its close-knit, family atmosphere. For the majority of students, ONU feels and looks a lot like home. But for other students, it doesn't. For students from other parts of the country or another part of the world, arriving on a campus so strongly rooted in the rural traditions of the American Midwest can take some getting used to.
This fall, the ONU student organization Brother 2 Brother has attempted to speed up that acclimation process through a series of collaborative events focused on campus unity. These events were designed to bring people together, and to spark the conversations that let students truly see and understand one another with the hopes that all students feel the warmth and support of the ONU experience.
In June 2020, President Dan DiBiasio announced to campus a series of actions the University would be taking to accelerate change and make more positive progress in the areas of diversity, equity and inclusion. These items include changes to structure and policy, recruiting strategies, core teaching and learning requirements, and campus life. Many of these changes are already being implemented, such as admissions events specifically targeted to diverse students, and an ONU Pettit College of Law lecture focused on race and criminal justice.
As part of this concentrated campus-wide effort, Brother 2 Brother's ONU Unity series consisted of four parts spread out over the fall 2020 semester – a Unity Walk, the signing of a unity banner, a virtual meet and greet with diverse alumni and students, and a collaborative campus discussion at Dial-Roberson Stadium.
"The goal of the ONU Unity series is to build unity as a part of the culture on campus," says Holton Watson, BSBA '20, multicultural administrative intern for the Office of Multicultural Development. "One of the things alumni who went to ONU will talk a lot about is how it's a family-oriented place, how it's a place where you can always feel like you're going to be successful and have friends around you. That's something that's carried on from when they went to ONU to this day. So we want to establish unity and diversity to be part of that same culture that will go on to the new generation of Polar Bears."
Watson, a recent ONU graduate and member of Brother 2 Brother, is one of the leaders in the efforts to diversify and unify campus. For an independent study course in his final semester, he conducted a survey to essentially measure the culture climate of ONU regarding diversity. He found that a majority of ONU students want more diversity on campus; they just don't know how to go about making it happen. That's where Watson and Brother 2 Brother have stepped in and led the way by laying out steps to implement. The ONU Unity series is one of those steps.
The first part of the series, the Unity Walk, took place Sept. 8 on the Tundra and provided an outlet for open discussion and a tangible display of unity. Senior James McDougald opened with a deeply meaningful speech about unity (see video below) as dozens of students – stretched out across the Tundra in order to social distance – listened intently. After talking in small breakout groups, the diverse congregation of students walked in silence to the statue of Martin Luther King Jr. on campus. The event concluded with everyone circled around the statue, singing in solidarity.  
The next event, the Talk at the Rock, occurred on Sept. 17 at the Spirit Rock in front of McIntosh Center. As a show of support, participants were invited to sign the unity banner, which features words, phrases and symbols of unity expressed by Polar Bears. Afterwards, the banner was moved into McIntosh Center and then into Heterick Memorial Library for the remainder of the semester. To date, the unity banner has more than 350 signatures from students, faculty and staff.
The third event was a virtual meet and greet held Oct. 13 between diverse ONU alumni and current ONU Dimension Award recipients, who are from underrepresented racial and ethnic backgrounds. Alumni shared their stories and discussed how ONU has both changed and stayed the same since their time on campus. It was a unique opportunity to engage alumni in the conversation on unity while also building connections between alumni and current ONU students.
Stronger Together was the fourth and final event of the fall ONU Unity series and took place on Nov. 4 at Dial-Roberson Stadium. Student, faculty and staff participants divided into small groups to have meaningful, substantive conversations about how to achieve unity at ONU. The focus was to brainstorm action items for everyone to take moving forward. The underlying themes that surfaced were communication and empathy.
"I think communication is big and it's important because there's a lot of things that people go through that other people don't know," says freshman Dakari Ward, member of Brother 2 Brother. "We have to look at each other's perspectives, walk in each other's shoes to be able to understand and respect things that we have to go through in our lives and feel like we are all humans and are unified."