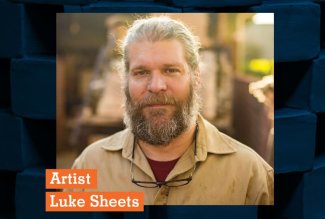 Ohio Northern University invites the public to join the campus community for the unveiling of "Nexus," a sculpture by art and design Professor Luke Sheets, BFA '95, that was commissioned for the University's year-long 150th anniversary celebration. The event will take place at 3 p.m. Friday, Nov. 5 on the first floor of Heterick Memorial Library.
The sculpture focuses on temporal elements and incorporates one of the most concrete intersections of art and mathematics—the golden ratio. It also includes numerous symbolic components and uses light to illustrate the concept of students venturing toward their future.
"By locating Nexus centrally on campus and referencing both the public art and architectural elements across campus, I'm bridging our past, our current reality, and the future yet to come," Sheets explains. 
Sheets has been a professor at ONU for the past 16 years and is head of the 3D Studio Program. In addition to teaching the university's 3D studio courses—3D Design, Ceramics, and Sculpture—he also leads the Senior Capstone Experience for the art and design students. Over spring break 2020, he also led a study abroad class to Guatemala.  
Sheets' studio practice involves research into glaze chemistry, exploring the various effects possible by wood firing at different temperatures, and the use of local materials to create a stronger sense of place in his work. He has presented his research at both national and international conferences and has participated in international residencies. His work is exhibited locally, nationally, and internationally.