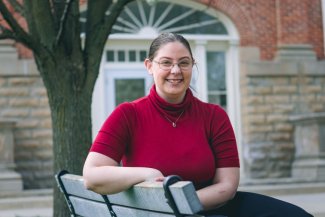 An Ohio Northern University education major, set to graduate this spring, is spending her last semester teaching high school students an uncommon advanced-level curriculum.
Kyra Hanes is a senior and double-major student studying social studies education and history with a minor in theater at ONU.
A native of Dublin, Ohio and graduate of Dublin Jerome High School, she returned to the Dublin City School District for her final stint of student teaching.
Throughout her time at ONU, she joined classrooms in multiple schools in Hardin and Allen counties, but her final placement at the Dublin City Schools Emerald Campus allowed her to expand on her own education while doing the same for her students.
The Emerald Campus is Dublin City Schools' International Baccalaureate (IB) and academy school. Hanes' placement there allowed her to explore alternative education options from those typically experienced during student teaching rotations.
International Baccalaureate is a more common education option used by European students to get into college. It's not as commonly used in the United States, although it is an honors diploma option through the Ohio Department of Education in one- and two-year options.
Hanes said the goal of IB is to teach information in a practical way outside of remembering the information for a test.
"It really challenges students to not just learn about the content. You're learning the content, gaining skills within that content and gaining skills to use throughout life," Hanes said.
She said the IB structure uses a concept called "Theory of Knowledge," which challenges students to look beyond information and answers, and to study how skills in daily life can be learned from the information given.
"What's great about the IB program is the students are able to gain college credit in their area of study after taking the courses and taking an end-of-year exam," said Hanes.
After gaining a great deal of knowledge and experiences teaching in a rural community setting, Hanes began teaching the program after deciding she wanted to teach in her suburban hometown. However, she was unsure what department she would try to student teach until her own former teacher suggested reaching out to Dublin's IB program teacher.
She then wrote a letter to the ONU Center for Teaching Education sharing her desire and how it would not only benefit herself but also her peers.
While student teachers typically perform their field work near ONU, Hanes said she was excited with the support she received in venturing to the Columbus suburb. She said University faculty had questions surrounding the non-traditional coursework she would be teaching, but once she presented her plans and reasons for wanting to teach it, she said she immediately felt their support.
"I feel like anybody would be hesitant. I mean, I was hesitant at first, because it was completely new to me," Hanes said, "but they were excited to learn what IB was and that made me more excited. I'm grateful I can help pave the way for future teachers to student teach within this discipline."
Hanes said she has been supported throughout her entire career at ONU as she worked from being a high school student who at times struggled, to an educator working with students on college-level coursework. She said the encouragement and education given to her by her professors inspire her to make a positive impact on her students as a student teacher and in the future.
Being able to teach this alternative education option is something Hanes said strengthens her ability to not only secure a job after graduation, whether it be in a traditional classroom or an alternative setting, but to serve her students wherever she lands.