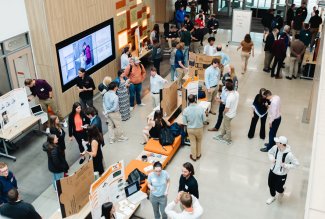 Creating tools to assist those who are differently abled was the focus of Ohio Northern University's engineering design capstone completed this semester by 169 first-year students enrolled in most of the T.J. Smull College of Engineering disciplines. A total of 34 teams designed projects that ranged from mobility assistance devices to educational games to trainers for skills like handwriting.
 
This annual engineering design challenge, which culminates in a day-long design showcase/competition for college advisory board members, encourages first-year students to apply basic engineering skills toward practical, community service-based solutions, though historically in a hypothetical scenario rather than engaging with real-world clients.
 
The context for projects has evolved over the years. Last year's assignment was to design toys for underserved youth. The results turned out "really great," said Blake Hylton, Ph.D., associate professor of mechanical engineering. "They were so creative in what they came up with and they were more engaged than I've seen them in a long time." A previous year tasked students with designing for the elderly to help with mobility and dexterity.
 
This year, Hylton suggested expanding a smaller service-learning effort in which students worked directly with Bluffton occupational therapists over the course of their projects to provide a similar opportunity for all students enrolled in the course. His idea was inspired by volunteerism that colleague Hui Shen, Ph.D., professor of mechanical engineering, has been involved in as a Hardin County Board of Developmental Disabilities board member. Shen was impressed by some of last year's toy designs and thought they could be helpful to those with developmental disabilities.
 
Hylton then connected with Andy Diller, a key Hardin County disability services coordinator to organize student tours to different regional service providers, such as schools, worksites and adult care facilities. ONU's future engineers were able to see first-hand "how these individuals are interacting with the world, they talked with service providers about what some of their needs are to get some ideas, and worked this semester to design the products." Seven of those partner representatives served as judges for the May 11 showcase.
 
Supplementing this semester's first-year design challenge costs is Hylton's $10,000 grant from the Kern Family Foundation. As a 2022 Engineering Unleashed Fellow, Hylton's one-year grant enables him to work on projects related to teaching undergraduate engineering students to embrace an entrepreneurial mindset. "All of a sudden I had this access to very unrestricted resources and I wanted to do something more with that to enhance our student expiernce and to give back to the community," he said. His goal is to also leverage endowed faculty funding to continue the project next year, recruit additional faculty to come on board and generate momentum for future designing that could culminate in a sustainable pipeline of deliverable projects.
 
"It's freshmen and only a single semester of work, so the quality of the products isn't quite where we would want to deliver them to someone for long-term use," Hylton noted. "They could really see some more refining before shipping them out." But some of the products exhibit great potential. He envisions that refining and iteration happening in the college's Engineering Projects in Community Service (EPICS) course during the next year. "The thought with this broader disability services project is to provide some continuity of project ideas feeding into EPICS and generating a pipeline of refined, customized products to help serve those in our community," Hylton said.