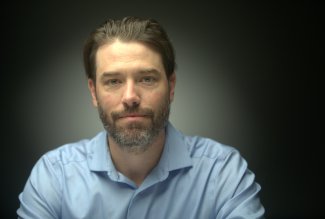 Since childhood, Bryan Boulanger, Ph.D., has been entranced by the night sky. And not just any night sky, but the kind that's as unadulterated as can be by artificial light emanating from a factory or city or even a seemingly unobtrusive trail bulb. The kind that dazzles you with its own celestial light show. His parents would load him and his brother into the family minivan and head from their Connecticut home to the American West, where they would camp and explore the great outdoors.
 
Years later, while working as an engineering professor in Texas, he was reminded of his love for the night sky during a trip with friends to Guadalupe Mountains National Park in the western part of the state. The group snuck into the full campground and, in near-freezing temperatures, unrolled their sleeping bags, zipped up and gazed up. "I saw stars I hadn't seen in a really long time since I was a kid camping with my parents" during one of their impressionable summer trips, said Boulanger.
 
The Texas trip did more than amaze, though. It inspired Boulanger, whose research had been focused on environmental contaminants in water and soil, to alter his career path so that he could serve the sky in ways that few others in the world have.
 
"While I was lying there in the park, I realized it's such a shame that I can't see any of this (sky) back where we live in College Station, Texas or back where I grew up," says Boulanger. "The next thing that came into my mind was the fact that my career profession was to blame for not being able to see it. I thought, 'Well, I can probably do something about that.'"
 
Now the chair of Ohio Northern University's civil and environmental engineering department, and as the Engineering Centennial Alumni Endowed Chair, Boulanger has accomplished such impactful work that the International Dark-Sky Association (IDA), which is the leading organization combating light pollution worldwide, bestowed upon him its 2022 Nocturnal Habitat Protection Award. To illustrate how big of a deal this is, the award had previously been given to Australia's Department of Agriculture, water, and Environment (an agency equivalent to our EPA) for their pioneering regulatory guidance on light pollution.
 
"Bryan is passionate about using engineering and education to protect nocturnal habitats and has spent much of the last decade working to do that," the IDA states on its awards page.
 
"Bryan has dedicated himself to making a difference, and he is passionate about using engineering and education to protect nocturnal habitat.  This has led to an amazing impact on millions of acres in North America, and it is wonderful to see his hard work recognized with this award," says T.J. Smull College of Engineering Dean John-David Yoder, Ph.D.
 
Mapmaking
 
Boulanger joined ONU's engineering faculty in 2012. After settling in, he found that ONU provides him with opportunities to pursue purposeful academic endeavors minus the red tape involved at larger research institutions. So, he started turning into a reality his dream plan: "Work on cool projects in cool places with cool people."
 
The night sky, and its increasing need for protection, continued to beckon.
What's referred to as "light pollution" is excessive or poor use of artificial light, which can harm plants, animals and humans. Anthropogenic (caused by humans) light "can wreak havoc on natural body rhythms in both humans and animals," explains National Geographic. Sleep interruptions can interfere with melatonin production, leading to headaches, stress, anxiety and other symptoms. Some studies also show a connection between reduced melatonin levels and cancer. The American Medical Association supports light pollution reduction and research examining the risks of exposure to light at night, including blue light emitted from phones and computer screens.
For animals, so-called "sky glow" can interfere with migration patterns, wake-sleep habits and habitat formation. Underwater lighting and lighting that's near bodies of water can also impact aquatic species.
Light pollution is "so pervasive people don't even realize it's a thing," Boulanger points out.
There is no shortage of night sky preservation work throughout the world. But where to start?
Boulanger knew the National Park Service (NPS) has a Natural Sounds and Night Skies Division. He ended up connecting with representatives from Yellowstone National Park, Grand Teton National Park and Teton Science School to talk about potential night sky projects he could tackle with his students.
 
"At that time in 2015 there were probably five or six National Park Service units who had become dark-sky parks," Boulanger says, referring to the IDA's designation for land, public or private, "possessing an exceptional or distinguished quality of starry nights and a nocturnal environment that is specifically protected for its scientific, natural, educational, cultural heritage, and/or public enjoyment."
 
What resulted was a collaboration between Yellowstone's landscape architect and the IDA to develop a comprehensive inventory of the park's artificial lights. Boulanger worked with John Barentine, who was then IDA's program manager, to educate himself about how to identify and mitigate artificial night lighting. "Working with John, I realized from the IDA's perspective that early on a lot of this work had been done by astronomers. Tucson was selected as IDA's home because there was an observatory there and as Tucson took off as a city the quality of the night sky was diminished by all the lighting. Folks at the observatory were concerned… They started to really think about how lighting should be if we're going to protect the night sky," he explained.
 
When Boulanger began meeting with NPS workers, many were cognizant of lighting's negative effect on the night sky, but didn't know what to do about it. To tackle the lighting problem, they needed to understand what all was located in their neck of the woods in the first place. Pencil and paper were still being used to map out where lights were and their characteristics, such as bulb types and height from the ground. Boulanger and several ONU engineering students changed all that, making the inventory process far easier and quicker.
 
As some of the "cool people," students have been integral to Boulanger's dream plan. They were able to rapidly inventory Yellowstone's lighting using a digital data platform that Boulanger created. A software workaround he discovered enabled data, including photos, to be collected in a customizable form even when people are off the grid, in the wilderness.
 
Two years before their Yellowstone inventory project launched, it had taken Grand Canyon National Park's full-time inventory worker, with pencil and paper, a year and a half to catalogue less than 5,000 light fixtures throughout the park. "We were able to do more than 5,000 fixtures in Yellowstone in six weeks," says Boulanger. "That got a lot of attention, the fact that we can move through, we can take data in the field and have it turned into a report all within six weeks-worth of effort." Yellowstone, mind you, encompasses nearly 3.5 million acres, making it larger than Rhode Island and Delaware combined.
 
Along with acquiring valuable hands-on professional experience via a sustainable service project, participating students were able to see one of the world's most visually stunning regions; the park is home to more than 500 active geysers, has the largest concentration of mammals in the lower 48 states, and includes about 290 waterfalls.
 
Remarkable student capstone projects resulted. Further integration with IDA and NPS goals, standards and ongoing education occurred. The inventory work expanded into areas in Canada and has reached beyond the parks to transform and benefit municipalities and corporations.
"What began as a single project with Yellowstone National Park to help them better understand their exterior lighting has since evolved into projects with 28 other partners across the U.S. and Canada," the IDA notes. "His contributions have led to 11.7 million acres of designated dark sky places, with another 4.4 million acres pending."
Designing Differently
Having succeeded so spectacularly, Boulanger's dream plan was bound to evolve. This makes him simultaneously happy and also slightly sad.
"Fortunately, what started as a cool project to do with the students and the national parks has continued," Boulanger says. "Unfortunately, I'm no longer doing that type of work with students anymore" because, from a more complex engineering standpoint, he's now being called upon more for his lighting design and retrofitting expertise.
From an ecological perspective, night sky protection initiatives are now shifting their focus from eliminating artificial light altogether after sundown to using artificial light in ways that better mimic nature. After all, Boulanger points out, the night sky is never entirely dark. Sans cloud cover, a full moon can seem to shine almost as brightly as the sun, the stars emit their own luminosity, and astrological phenomena such as the Aurora Borealis and meteor showers light up parts of the sky at times.
Can outdoor lighting be removed in areas or be replaced with more warm light sources? Can fixtures be designed to direct light downward instead of outward and upward? Can movement and timing features be used to reduce the amount of time a light is on? Can landscapes be redesigned to better accommodate safety concerns and provide more directional guidance? Foremost to keep in mind are form, function and purpose. For instance, it's important to understand why a light was installed in the first place.
"Now, when I'm in the field, I'm making design recommendations for every light fixture they would need to replace," and helping them consider lighting alternatives, says Boulanger. But, as always, the work involves more than recommendations. Luckily, students are still a large part of his night sky efforts.
"We're trying to do more projects here in the office," he says. "We have the data collection, the characterization and the recommendation about how to improve park lighting down to a science, or at least down to an approach." The primary questions to now answer are: What does it mean from a science point of view to have a naturally dark sky, and how can humans accommodate the needs of themselves and nature when it comes to artificial lighting?
"If we're designing a pathway for the park service, can we use a light-colored path and dark-colored edge in order to define that and have people safely navigate? Can we use lighting that responds to humans being in the environment rather than having something that's just on all the time? How do you manage parks like Denali National Park and Preserve in Alaska, which is along the "Aurora Route," but also has numerous fixtures that emit unnecessarily bright light, Boulanger wonders.
Municipalities and even rural areas are facing different problems that Boulanger is beginning to address, too. This semester he is working with two undergraduate student researchers and leveraging students in his elective course offering to lay the framework and develop the data for what will be a first-of-its-kind national night sky scorecard. Using publicly accessible satellite imagery, they're examining the amount of light released from every U.S. county, comparing it to the population, and giving each a ranking. It'll be another way of increasing awareness about light pollution and helping those wanting to reduce it. It's a different, more complex inventory endeavor.
One fact that will be evident in Ohio: the biggest cities aren't the only contributors of artificial light at night. Large greenhouses, for instance, can be huge light polluters, too.
Each park, each city, each geographical space has different lighting at night, different needs and different priorities.
Boulanger and students intend for their light pollution map to create a baseline of current night sky quality "so that we can understand what we have to protect, maybe over time see what we're losing, and optimistically look at what we're reclaiming."
Boulanger's elective courses this semester also has students collecting and studying lighting ordinances throughout Ohio. Along with researching key night sky-related information, learning this aspect of public policy will be essential to students who, as future engineers, will need to know a thing or two about how government, bureaucracy and politics play a part in projects.
Residents of Clark County, Ohio recently leveraged Boulanger as a consultant to pass a lighting ordinance. The impetus to do so came from a Traci Cardinal who lived next to a factory that had installed overly bright lights in its parking lot. Cardinal's work inspired her to run, and win an elected seat on Clark County's Democratic Central Committee. Boulanger said he is also working with Cardinal to engage the City of Springfield, which wants to upgrade its lighting to be more environmentally responsible.
"I have more work coming in the months and years ahead," Boulanger says.
As the years progress, Boulanger's night sky interests and experiences are consequently revealing to his students the different professional avenues that they may not have considered. Avenues, for instance, that pertain not just to light, but to water, to other natural resources and to sustainability practices that can have a monumental quality-of-life impact without the "wow" factor of, say, building the world's tallest skyscraper. Like with his night sky protection quest, opportunities abound to truly make a difference.
That difference can start right at home. Outside of the classroom, Boulanger is emulating his parents' by instilling in his own children a love, understanding and appreciation of nature.
"I think this work to me has always been about legacy," says Boulanger. "When I stop doing this, what's going to be left behind? My kids are getting older but I still have a 5-year-old and so someday I want her to be able to go someplace and actually see a naturally dark sky. I take them places now in hopes that they'll remember what it's like. I'm hopeful. This is about legacy for me and wanting to leave something a little better off than when I started."
Interested in ways to reduce your own light pollution? Visit the IDA's Light Pollution Solutions page.
 
The Engineering Centennial Alumni Endowed Chair was established with contributions from 488 ONU engineering alumni to commemorate the 100th anniversary of the T.J. Smull College of Engineering in 1982-83. Dean Lawrence Archer, BSCE '47, played a major role in the success of the campaign, along with Dr. Robert Higgs, who chaired the campaign and was its largest contributor, and Dr. Robert Sandberg, who died as the campaign concluded.