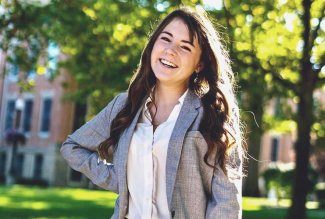 Ohio Northern University junior Andrea Hoffman has been appointed by Gov. Mike DeWine '72 to serve a two-year term on the Ohio Rare Disease Advisory Council.
Hoffman, who has cystic fibrosis, has been actively involved in advocacy work from the public policy perspective at the state and national levels. Her media experience regarding CF advocacy ranges from interviews with regional reporters to writing for CNN. More recently, as an ONU Institute for Civics and Public Policy Fellow, she was instrumental in organizing an Ohio CF Advocacy Day, a virtual event that invited those living with CF and their families to share their stories and talk with state legislators. A Lewis Center, Ohio resident, she is double majoring in political science and public relations with minors in public policy, public health, pre-law and religion.
The recently-formed advisory council is charged with advising Ohio's General Assembly regarding research, diagnosis and treatment efforts related to rare diseases across the state. "Rare disease" is defined by the state as a condition that affects less than 200,000 people living in the U.S.
"I am so honored to be appointed to the Ohio Rare Disease Advisory Council by Gov. DeWine! I am excited to have this opportunity to represent those living with CF and look forward to improving the lives of all those living with a rare disease in Ohio," Hoffman recently tweeted.
Hoffman is one of 25 individuals serving on the council. Throughout its creation, she helped to provide proponent testimony and expressed her interest in serving on the council as a CF representative. She applied for an appointment and was one of several across the state who were selected.
"While on the council, I hope to increase access to care, raise awareness and help provide for the needs of those living with a rare disease in the state of Ohio," she says.