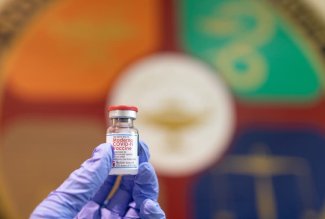 Ohio Northern University's HealthWise Pharmacy is providing COVID-19 booster shots to high-risk individuals who fall within the CDC's booster categories.
HealthWise is offering Pfizer, Moderna and Johnson & Johnson boosters, as well as flu shots and COVID-19 vaccinations. They are available at the pharmacy from 4-6 p.m. Monday through Friday. Walk-ins and scheduled appointments are welcome. To schedule an appointment, call the pharmacy at 419-772-3784.
If you'll be receiving a booster shot, remember to bring your COVID-19 vaccination card with you.
The CDC has set the following guidelines for booster shots:
For individuals who received a Pfizer-BioNTech or Moderna COVID-19 vaccine, the following groups are eligible for a booster shot at six months or more after their initial series:
• 65 years and older
• Age 18+ who live in long-term care settings
• Age 18+ who have underlying medical conditions
• Age 18+ who work or live in a high-risk setting
For those who received the Johnson & Johnson COVID-19 vaccine, booster shots are also recommended for those who are 18 and older and who were vaccinated two or more months ago.  
HealthWise will allow participants to receive a vaccine booster brand that is different than their initial dose. Pharmacists will offer suggestions based on CDC guidance.
For questions about COVID-19 boosters, flu shots or other healthcare needs, please call the HealthWise Pharmacy team at 419-772-3784.