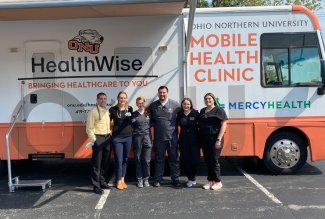 Pictured from left: Dr. Sean Gallagher, physician; Dr. Katheryne Ruck, physician; Dr. Olivia Welch, pharmacist; Dr. Chase Kiriazis, pharmacist; Isabel Bonariggo-Burton, student-pharmacist; and Kayla Baxendell, student-pharmacist.
In partnership with Mercy Health - St. Rita's Medical Center, Ohio Northern University's Healthwise Mobile Clinic, which provides vital health and wellness services to regional residents, will be adding Our Daily Bread community center, 125 S. Central Ave., Lima, as a routine monthly clinic location. The first clinic will be held July 19 from 11 a.m. to 1 p.m., with subsequent clinics to be held every third Tuesday of each month.
 
This expanded health access point further exemplifies the community benefits of the ONU Healthwise and Mercy Health partnership, which was established in summer 2021 with the addition of St. Rita's Internal Medicine residents to the mobile clinic. The partnership furthers both institutions' service-based missions and add significant value to the quality of healthcare expertise offered to the community.
 
The medical residents' inclusion transforms the clinic into a "fully-functioning primary care office on wheels," said Michael Rush, Pharm.D., director of ONU HealthWise and Pharmacy Residence Programs and assistant clinical professor of pharmacy practice. Full physical exams are now offered and clinic patients "can schedule appointments and follow-up for chronic conditions as they would with a brick-and-mortar primary care provider office," he added.
 
The mobile clinic, housed in a fully-equipped 38-foot RV, launched in 2015 as a response to community health assessments that indicated many residents throughout Hardin County experience significant barriers to healthcare access, have higher rates of chronic illnesses and reside in areas designated by the Health Resource and Services Administration as medically underserved. The clinic travels most days of the week to locations in Hardin and Allen counties to help residents overcome access, cost and healthcare provider availability barriers. Its goal is to provide knowledge and resources to address health related concerns and empower individuals to improve their health.
 
Clinic patients can receive a complete primary care experience closer to where they live and regardless of their ability to pay. To view the schedule or make an appointment, please visit www.onu.edu/healthwise.
 
The HealthWise Mobile Clinic, initially funded with a U.S. Department of Health and Human Services grant, operates under the umbrella of ONU's comprehensive on-campus HealthWise pharmacy and renowned academic program. It provides county residents with vital health and wellness services such as lipid, glucose and diabetes screenings; blood pressure checks; vaccinations; disease risk assessment; tobacco cessation; and referral of patients to primary medical care. The clinic also partners with organizations such as the Kenton-Hardin Health Department for effective outreach.