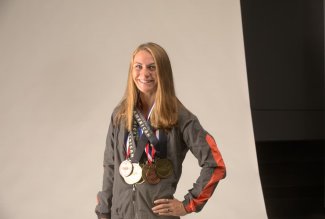 Watch ONU alumna and assistant coach Emily Richards compete for membership on the U.S. Olympic Track and Field Team this Thursday! Richards will be competing at the 2021 United States Olympic Trials in the 800-meter run's first round. The race, to take place in Eugene, Oregon, will be aired June 24 at 7 p.m. PST (10 p.m. EST) on NBC.
Richards has athletically distinguished herself for years. She is a 9-time NCAA champion and 13-time All-American. To qualify for the Olympic Trials, she ran a 2:02.10 at the Stumptown Twilight Meet on June 3 in Portland, Oregon. The qualifying mark for this year's trials in the 800 is 2:02.50.
The top three finishers at the Olympic Trials will make the U.S. Olympic Team and will compete in the 2021 Olympics in Tokyo, Japan from July 30 through Aug. 8.
Richards turned professional in 2018 and is in her fourth season running under the Hoka One One banner. She is also an assistant coach with the ONU track and field and cross country programs.
Richard was also a First Team Academic All-American and was ONU's female Clyde Lamb Award honoree. She graduated from ONU in 2018 with a bachelor's degree in chemistry.
This marks the fourth consecutive time that Richards will compete on the national stage at the country's top outdoor track and field meet.