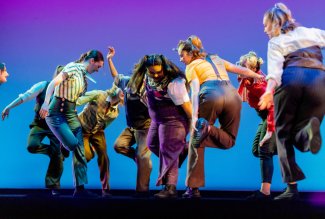 The Freed Center for the Performing Arts at Ohio Northern University (ONU) is excited to release its full slate of theatre, dance and music events for the 2023-2024 season, with subscription sales starting Aug. 1. Single tickets are available for purchase approximately six weeks prior to each event beginning on Sept. 28 for the musical comedy It Shoulda Been You.
Flexible subscriptions are available for purchase through the Pick 2, 4 or 6 packages that allow patrons to select the events they want to see, and save up to 20% off single ticket prices. In addition, subscribers receive:
• Priority seat selection at the best prices before the general public beginning Aug. 1
• Ticket insurance to replace lost or misplaced tickets at no charge
• Privilege to exchange tickets for another performance event (subject to availability)
• Special add-on purchase option for The ONU Holiday Spectacular with the purchase of a subscription. Without a subscription, this popular event's general public sales begin Oct. 6.
The full slate of performances for the 2023-24 Season for the Freed Center for the Performing Arts includes the following:
Sept. 28-Oct. 1: It Shoulda Been You (musical comedy)
Oct. 19-22: The Thanksgiving Play (comedy)
Oct. 28: ONU Chamber Orchestra Concert, Americana program with Aaron Jonah Lewis, banjo
Oct. 29: BAND-O-RAMA featuring the ONU Marching Band
Nov. 16-18: The ONU Holiday Spectacular at The Freed Center for the Performing Arts
Dec. 1-3: The ONU Holiday Spectacular at Veterans Memorial Civic and Convention Center (Lima)
Dec. 7: ONU Chamber Orchestra Holiday Concert with University Singers
Feb. 10-11: Looking Back, Moving Forward, Celebrating 30 Years of ONU Dance
Feb. 29-March 3: Ugly Lies the Bone (drama)
March 23: ONU Symphonic Band Concert
April 20-27: 9 to 5, The Musical
May 3: ONU Chamber Orchestra Spring Concert
May 5: ONU Spring Band Festival XLVII
Subscription packages and single tickets can be purchased online at www.FreedCenter.com, by phone at 419-772-1900 or in person at the Freed Center Box Office, Monday through Friday, 12 p.m. to 5 p.m. Full details in the season brochure can be accessed at www.onu.edu/freed/season-brochure.