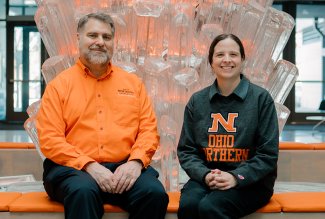 If you're part of Gen X, chances are you tried to avoid death by dysentery and debated how many bullets to take with you on your Oregon Trail trip, provided courtesy of the still-popular pixelated video game. First released in 1971, the game, which has undergone several adaptations since then, was designed to help teach younger students about 19th century pioneers who journeyed along this historic westward route. 
But it's what the game, particularly its original version, doesn't teach and show, however, that captured the interest of Ohio Northern University professors Dr. John Estell, professor of computer engineering and computer science, and Dr. Stephany Coffman-Wolph, assistant professor of computer science. 
The two turned those game gaps into research and learning opportunities that continue to resonate with and benefit engineering majors. Their success with intersecting the science of digital gaming with fuller and accurate historical knowledge about Oregon Trail realities resulted in a redesigned Programming 2 course that students love, so much so that enrollment in the course doubled. A pedagogical spinoff being introduced in spring 2023 will be an interactive fiction course for both computer science and English students that Estell will be teaching with English professor Dr. Lisa Robeson. 
Estell and Coffman-Wolph's unique teaching twist also has drawn interest from successful engineering alumni who remember playing the game as kids and who therefore understand the cultural and professional significance of how it is now being taught at Ohio Northern.
Facing flawed frontier fables
Oregon Trail lessons at ONU are rooted in diversity, equity and inclusion imperatives and in the College of Engineering's emphasis on cultivating an entrepreneurial mindset in students. When Estell and Coffman-Wolph began exchanging ideas over lunch one day about how to reimagine Programming 2, the Oregon Trail video game seemed to provide the engaging solutions they were seeking, they say. By assigning students a familiar game to redesign in their own ways, the game's cultural shortcomings could concurrently be addressed and updated too.
The shortcomings, Estell and Coffman-Wolph point out, are numerous and obvious. In the first game version designed by three male college students and more widely released by the Minnesota Educational Computing Consortium (MECC), representations of women and Native Americans in particular were sorely lacking. The game centers on a male protagonist who leads his family along the trail and who makes the decisions that impact their fates. Hunting plays a key role. Do you, as the man of the wagon, have enough bullets to kill enough animals to sustain your family through the whole trip? Are you a good shot? You decide whether to take a rest one day or to forego help with crossing a river. You alone decide which profession you want to represent when you start your journey.
Coffman-Wolph and Estell's research is titled "In a Woman's Voice: An Alternative Gamification of the Oregon Trail." They've been assisted by student researcher Mia Prasinos. Estell is the Mary (Workman) Reichelderfer Endowed Chair in Mathematics and Computer Science and he's using the research funding from this prestigious appointment for this collaboration project.
While the woman – mother – in each Oregon Trail game session is but a shadow, an almost-invisible token parental figure with no agency, in real life each woman who traversed the trail played an integral role in the family's quality of life and survival. Likewise she would also have been integral in any larger wagon community she was a member of. Pioneers moving west often formed wagon trains, banding together to further protect them against the many hardships of trail life and to increase their chances of reaching their destination. The entire Oregon Trail stretched 2,170 miles from Missouri to Oregon's Willamette Valley.
The game has enjoyed enormous popularity since its introduction to American classrooms, and some secondary school teachers still teach it, Estell says. "One of the things about the Oregon Trail that made it a hit is that you had options to choose from" based on a provocative storyline that incorporated challenges to overcome, he says. It's a choose-your-own-adventure activity that gives players some control over their fate.
Coffman-Wolph is of a different mindset. "I actually hated the game as a kid," she says. "I thought it was the worst thing ever. It was boring."
Coffman-Wolph says she was not interested in the hunting aspect of the game. Yet for many of the male gamers, however, the "shoot-'em-up" factor resonated, says Estell, to the point that some figured out how to manipulate the game in order to receive more bullets for hunting.
Meanwhile, the mother figure in the game was not even given a name, let alone any trip-related authority. This was in stark contrast to real life, which involved women taking care of the children, cooking for the family, mending clothing, caring for those who were sick and injured, addressing everyone's emotional needs and conducting crucial trading with Native Americans along the way. Some of those women did not want to leave their homes and communities to begin with, Estell notes.
"The other group that was horribly represented in the game was Native Americans," says Estell. As with many other negative pop culture portrayals, the Oregon Trail game depicted Native Americans as threats to pioneers and they were visually presented as cultural caricatures. 
ONU computer programming students are presented with the opportunity to update the game in ways that more realistically include and portray Oregon Trail travelers. Students are asked to consider what an actual 13-year-old female pioneer on the Oregon Trail might have carried in one of her pockets and to learn about Native Americans' involvement. 
Heterick Memorial Library staff provide trusted source material for students to conduct research while they're figuring out how they want to redesign the game. Estell and Coffman-Wolph, along with conducting their own historical research, and taken other measures to provide their students with a broader knowledge base. For instance, craving the visceral experience that space and place provides, Estell has walked along part of the Oregon Trail, where wagon swales still exist; and Coffman-Wolph has relied upon her family's antique collecting to bring objects to her classroom that were used during that era. The professors want to make sure that students understand how and why people navigating the Wild West lived differently during the mid 1800s, when things like penicillin and bubble wrap didn't exist. They want students to understand why collaboration, innovation, endurance and resilience were so essential to the pioneer experience, and how those characteristics remain relevant today.
Along with addressing diversity and inclusion deficits from moral and ethical standpoints, students are also learning how to meet the needs of potential stakeholders – customers, investors and others who would find these elements important enough to influence how they use their money. 
"Just understanding who your users are – we try to push that as much as we can," says Estell. "You want to bring these things to the forefront because a lot of times, in an engineering college environment, the focus is all too much on, 'I want to build the longest bridge or the fastest car or the coolest computer' or whatever. But we forget the people, we forget the culture." 
Representation resolution
Teaching the Oregon Trail by centering DEI from a programming standpoint also highlights contemporary gendered and racial exclusions, consequently allowing more computer science students to feel like they belong in what has historically been a male-dominated profession.
Even though the word "computer" initially referred to human calculators who, decades ago, were overwhelmingly women, today's digital computing landscape is dominated by men. According to the U.S. Bureau of Labor Statistics, 71 percent of computer science researchers are men. Only 20 percent of computer science and 22 percent of engineering undergraduate degrees in the U.S. go to women Scientific American reported in a July 2022 article. 
Unfortunately, there has even been an educational backslide, with women having earned a significantly higher proportion of undergraduate computer science degrees—37 percent in 1984—than they do today. Targeted marketing and prevailing stereotypes that emerged during the PC revolution are partly to blame for these numbers. Gaming is especially sexist, Estell says. "When you look at the gaming industry there is so much going on that is negative toward women. And women who dare show that they are women in those environments tend to be harassed out of the environment," he points out.
Educators are continuing to combat these trends, but it's a journey that almost seems as daunting as the Oregon Trail itself was.
"Although our society has changed a lot and we are starting to eliminate the stereotypes, we do need to show students what existed at the time that the people who wrote this would've learned from," Coffman-Wolph says. "We need to show how it persists and then try to demonstrate how important it is so that it doesn't creep back in," as it did with Oregon Trail game iterations during the 1990s, she notes.
"I think our female students and our other students who are in the minority in our computer science courses appreciated learning that not everything was white male" on the Oregon Trail, Coffman-Wolph continues. "I think for them, they also feel like it's kind of rewarding that we were putting that issue forward. We've gotten a lot of positives from that and we've gotten a lot of positives from the community around here," she says.
Artistic license and other creative options are being exercised in the Oregon Trail programming classes too, the professors say, which offers added educational benefit. Some students have been inspired by their personal interests to, say, incorporate music from the time period, make original imagery and more for their game versions.
The result, the professors maintain, is that students are gaining marketable skills that will benefit them their entire careers.
"One of the things that alumni are always telling us is, (engineering) students need to be able to take something that already exists and update it. So, we're actually sneaking in that skill that our alumni say they need for the job market. They're only first-years and they're learning this kind of skill set," Estell says, not to mention valuable cultural competencies and kindnesses that are necessary for thriving in our increasingly diverse world.
The Mary Reichelderfer Endowed Chair in Mathematics and Computer Science is named for Mary Reichelderfer Werkman, who provided funding for the endowed chair from her estate. Werkman was born in 1900 and died in 1980. A graduate of Ohio University and the University of Chicago, she was a mathematics teacher for many years. Her father, J.J. Reichelderfer, graduated from Ohio Northern University in 1896 with a scientific degree.