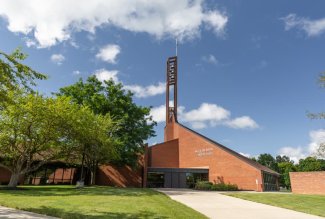 Ohio Northern University will commemorate the 20th anniversary of Sept. 11, 2001 with Saturday events.
A special gathering will be held in the Walter and Marian English Chapel Garden at 8:46 a.m. Participants are asked to arrive by 8:40 a.m.
Also, the ONU Veterans Organization will be hosting a stair climb from 10 a.m. to 2 p.m. in Dial-Roberson Stadium to honor first responders and all who lost their lives in the terror attacks.
Ohio Northern President Daniel DiBiasio encouraged the campus community to take part in the memorial events.
"With the 20-year anniversary of 9/11 occurring as our nation withdraws from war in Afghanistan, we are painfully aware of how those events challenged our nation, that our world is not yet at peace, and that hatred still divides people and nations," DiBiasio states. "The 9/11 tragedy and the ensuing conflicts it caused motivate us to reflect on our own international community because we have had students from parts of the world identified with the tragic attacks. They, too, condemn terrorism, and we value them as an important part of the Ohio Northern University community. As we remember the fallen, we ask that God's love and grace comfort their families and friends, and all of us as well."