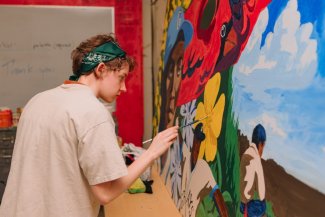 More than 40 years after his death, one of the greatest and most successful athletes from Northwest Ohio was inducted into the National Baseball Hall of Fame. Now, 17 years after his enshrinement in Cooperstown, Ohio Northern University faculty and students are working with his hometown to honor him.
A historical marker and mural both are in the works to honor baseball great Ray Brown.
Brown was born Feb. 23, 1908 in Alger, Ohio, and was a star pitcher in the Negro Leagues throughout the 1930s and 1940s. He spent 14 seasons with the Homestead Grays, leading the team to eight pennants in a nine-year span.
After his playing days, Brown stayed out of the limelight with the exception of a small newspaper clipping announcing his death in 1965 in Dayton, Ohio. That changed decades later.
"The Baseball Hall of Fame had a special committee that was formed in 2005, 40 years after he died, and it was a committee on African American baseball," said Assistant Professor of History David Strittmatter, Ph.D. "They were looking for Black players who had made contributions to the game that maybe were under appreciated, and thus not enshrined in Cooperstown. So, it was a big hall of fame class of 17 players."
Strittmatter said Ada Herald columnist Joe Schriner wrote on there being no mention of Brown in the Alger community.
"No historical marker, nothing on the water tower, nothing on a sign welcoming you to town, nothing," Strittmatter said.
Strittmatter was teaching a public history course at the time. A handful of students from the class accepted the task of drafting the components needed to apply for an Ohio Historical Marker. Though it was not submitted, the project was started.
In Spring 2023, Strittmatter taught a course called "Baseball in American Culture," which he saw as the perfect opportunity to get the project across home plate.
While Hardin County has 16 state historical markers, and Ohio has 11 markers with a baseball-related theme, a marker for Brown would be Hardin County's first baseball-themed marker.
Along with the application, receiving a historical marker relies on commitment of a local sponsor and signage funding. A conversation between ONU student Alex Laird and Alger Village Administrator Paul Osborne furthered plans for the historical marker.
"He approached me from David's class and asked about the project about the same time a member of (Alger Village) Council sent me a photo of the hall of fame plaque," said Osborne. "I thought it was fascinating and I got really excited about it."
With a $25,000 grant secured through the office of State Rep. Jon Cross (R-83), Alger Park purchased a new backstop for the baseball diamond. Osborne said the historical marker and a mural would be another step in revitalizing the facility.
He said the mural will hang on a dugout or concession stand for visitors to see.
Osborne said he believes something grander needs to occur, too, like naming Alger Park after Brown or some other projects in coming years.
"We're still dreaming. It's really still in its infant stages," he said. "I would like to see this go further beyond. I have big ideas, believe me."
The mural, a colorful tribute to Brown's life, is a collaboration between ONU's history and art departments. ONU sophomore Aubrey Davis is the designer.
After a conversation between Strittmatter and Director of the School of Visual and Performing Arts Melissa Eddings-Mancuso, Davis, a studio art major, was invited to create a design and present it to Strittmatter's class. She worked on the project all spring semester.
"(The previous semester) I didn't have too many art classes and I was feeling a little worn thin, so I reached out to Professor Eddings-Mancuso, just to see if she had anything I could get involved in," Davis said. "She proposed this project to me, which is an accompaniment with the history department. They wanted to do a mural of this person they had been researching, a visual component to what that they were finding out about him."
Davis then began sketching and receiving feedback on the design, which includes Brown surrounded by Ohio imagery.
The mural prominently features Brown in three figures, including two as a ballplayer and once as a young boy overlooking farmland, showcasing moments of his life from his youth in the vast farmland of Hardin County to his professional career. Surrounding Brown are various flowers native to Ohio, including red columbine, chicory, goldenrod and buttercup.
"That was an important inclusion for me personally because knowing what I know about the environment around me gives me a very strong sense of place," Davis said. "I feel like supplementing and supplying that in this work really affirms him as an Ohioan and belonging where he grew up."
The top center of the mural features Ohio's state bird, a cardinal, in flight.
"It's a bit stronger iconography," Davis said. "We think of that and the buckeye tree as symbols of Ohio."
Davis, a native of Columbus Grove, Ohio, said getting to display the mural in a public setting is part of the artwork.
Alger is "not too dissimilar from the place I grew up in. It's a little smaller, but I'd say it really counts in that regard as pretty important to me," Davis said. "Staying local and articulating local problems, concerns and people is a communal kind of thing. It's really very important."
She believes academia and community working together toward a common goal adds something more special to the project.
"I think cross-disciplinary things are really important, especially to me as an artist, because I have my knowledge of the local history coming through. So, other topics and other areas of study really feed me in that regard," said Davis. "I think it's really great that having a visual component is something that they wanted to do. More projects like this should be done."
A GoFundMe page for the funding of the historical marker can be found here.