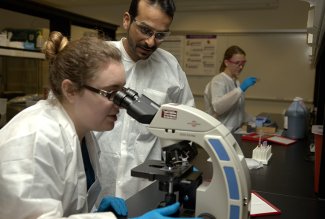 They labor behind the scenes, out of the limelight that showcases physicians and nurses who work directly with patients, but medical laboratory scientists perform vital work that the majority of disease diagnosis and treatments rely upon. The COVID-19 pandemic has only magnified the need for such professionals. Hence, the reason for Medical Laboratory Professionals Week, scheduled for April 18-24. The annual event, organized by representatives from 17 national clinical laboratory organizations, seeks to raise awareness and recruit for this in-demand field. 
Ohio Northern University Medical Laboratory Sciences (MLS) majors and members of the Professional Association of Medical Laboratory Students (PAMLS) will celebrate the week with events for students and a virtual 5K run on the "Green Monster" trail on campus. This year will mark the 6th Annual Lab Week Run and the first time ONU's MLS students will participate. Proceeds will support new professionals and students. The run/walk is scheduled for Tuesday, April 20 at 11 a.m.
Medical lab workers analyze materials such as blood, tissue and fluid to help diagnose and treat disease. The work requires meticulous attention to detail.
"It's a position many do not know about or understand," says MLS Program Director Lisa Walden, Ed.D. Lab technicians "are usually gowned up, goggled and gloved and in their own spaces. They don't let outsiders into their spaces because they're working with biohazardous materials and things that can cause infections."
However, Walden points out the COVID-19 pandemic has brought the profession more to the forefront, given the significant amount of testing that has occurred to treat patients and help control the virus's spread. Because testing for the virus is specialized, new lab spaces have been created and lab technicians reassigned to handle the larger testing load.
Walden encourages science-loving high school students and college graduates with biology or chemistry degrees to consider the medical laboratory science field, particularly ONU's 1-year program.
Some interesting facts about medical laboratory scientists, according to the American Society for Clinical Laboratory Science and Dr. Walden:
• Approximately 70% of medical decisions are influenced by laboratory test data.
• More than seven billion medical laboratory tests are performed each year in the U.S., the single highest volume of medical activity.
• Medical centers in Hardin County and all of its contiguous counties are experiencing medical lab scientist shortages;
• Some medical labs are paying as much as $10,000 in sign-on bonuses for new workers.
• In 2016 the Bureau of Labor Statistics anticipated needed growth of 12,000 new medical lab professionals annually to meet growing demand, but academic programs only produce 5,000 graduates per year.
• Academic programs are on the decline. From 1970 the number of accredited programs declined from nearly 1,000. 483 in 2021.
• ONU is the only private college in the state that offers an MLS degree.
"The Medical Laboratory Science program at ONU has allowed me to step out of my comfort zone," says Emma Sberna, a senior from Columbus, Ohio. "I have gotten to perform so many hands-on procedures that I never thought I would have the chance to do in the student laboratory. The professors have taught me how to think of the big picture and to not have tunnel vision when it comes to the medical field, which is so important nowadays. 
Sberna added that the personalized instruction and knowledgeable, personable professors "made a huge impact in my learning. I know when I leave the doors of ONU, I will be prepared for any job that I decide to take on."
ONU's MLS Program provides an accredited National Accrediting Agency for Clinical Laboratory Sciences bachelor's degree and a post-baccalaureate certificate. Both programs promote hands-on learning, including experimentation with professors in state-of-the-art campus labs. The campus chapter of PAMLS organizes field trips to labs within the region, hosts speakers and provides networking opportunities.
Individuals are welcome to participate in the virtual 5K at ONU with MLS students and faculty. They can also donate directly to the program. Such funds are used to purchase lab equipment, which can be costly. For more information, contact Dr. Lisa Walden at l-walden@onu.edu.