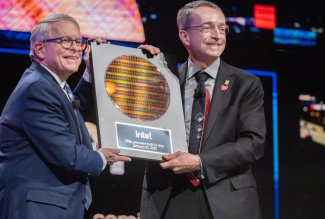 Intel's decision to build a large semiconductor manufacturing campus near Columbus, Ohio, is not only a big win for the state, but also for Ohio Northern University, particularly several of its alumni who had a hand in securing this development deal, and graduates who will land well-paying jobs there.
 
As Intel moves forward with building its state-of-the-art campus (slated to open in 2025), Ohio Northern is proud to recognize particular alumni, all leaders and experts in their professional fields, who played key roles in convincing the multinational technology corporation to build within the Buckeye State. Developers and politicians have hailed the decision as a regional economic boon, with many directly connected and affiliated with ONU standing to benefit.
 
Other members of the ONU community are also expected to have a hand in innovations and operations at the two plants that Intel, which employs the third largest manufacturing workforce in the U.S., intends to construct at the Columbus campus. Along with high-paying jobs, the tech campus is anticipated to offer internships and other high-impact learning opportunities for students as well.
 
"It's understandable why so many of our alumni have helped bring Intel to Central Ohio, and why Ohio Northern will continue to support Intel's success here," says President Melissa J. Baumann, Ph.D. "This is a University that thrives on finding solutions to challenges. We have a preeminent College of Engineering with a reputation for excellence, our graduates from all majors achieve unprecedented success, and we've set our sights on enhancing ONU's academic offerings even further."
 
Baumann's interest in Intel's Ohio project reaches beyond her current leadership role: she earned a Ph.D. and a Master of Science degree in materials science and engineering at Case Western Reserve University and a Bachelor of Science in metallurgical engineering at Michigan Technological University. As an engineer herself, she expressed excitement about the possibilities Intel will offer, not just for ONU, but also for the world. "Intel's new campus will fill a vital technology gap. It will also serve as an innovation hub that will transform lives in ways that we're hopeful about and in ways we have yet to even anticipate. That's the level of changemaking that we, as a University community, enjoy collaborating on and leading."
 
Project basics:
In January 2022, Ohio Governor Mike DeWine, an ONU alumni himself, and JobsOhio announced Intel's $20 billion commitment, lauded as the biggest economic development project in the buckeye state's history. DeWine called it "a major win for Ohio" and President Joe Biden characterized the plan as one that will enhance America's standing as an international manufacturing powerhouse, the Columbus Dispatch reported.
 
Seventy percent of semiconductors are now produced in Asia; only 12 percent were manufactured in the United States in 2020. JobsOhio emphasizes this project will alleviate the world's semiconductor chip shortage, which is impacting more than 300 downstream economic sectors and putting 26 million jobs at risk. Intel's move "will create thousands of high-paying jobs, secure America's chip supply chain, launch the semiconductor sector in the state, and reinforce Ohio as a magnet for attracting talent and business," the state's economic development nonprofit organization maintains.
 
"These factories will create a new epicenter for chipmaking in the U.S. that will bolster Intel's domestic lab-to-fab pipeline and strengthen Ohio's leadership in research and high tech," says Intel CEO Pat Gelsinger.
 
"Intel is committed to increasing the amount of semiconductor development and manufacturing in the U.S., with the Columbus mega-site project on track to create 3,000 advanced manufacturing jobs in Central Ohio," JobsOhio states. "Intel's presence is likely to bring many suppliers to the region with hiring needs for fab roles or other functions."
 
Workers at the new site, to be annexed into the Columbus suburb of New Albany, will produce necessary chips for items such as computers and smartphones, cloud devices and medical equipment.
 
"It is great to see this level of investment in technology and manufacturing in Ohio!" says John-David Yoder, ONU's College of Engineering dean. "While our students have always been highly successful in finding great jobs, we look forward to seeing the additional opportunities that Intel brings to our students and alumni in the region."
 
Dicke College of Business Dean John Navin says he and his colleagues see great job-related potential for ONU graduates, particularly in the areas of leadership and management training.
 
"We also believe that there will be plenty of opportunities to assist other businesses that will be moving into the area to support the Intel campus. Those businesses as well as the Intel campus itself should provide plenty of internship and employment opportunities for business students and graduates," says Navin.
 
Why Ohio? Why did Intel ultimately choose the Buckeye State as the location to embark on one of its most significant expansions? Ohio Lt. Governor John Husted posted this question to Intel's CEO, Patrick Gelsinger, the day after the project was publicly announced, said Ohio Northern alumnus Robert "Bob: Smith, who, as JobsOhio's board chair, had an integral role in helping to entice Intel to build in Ohio. The answer? Ohio's leaders are all "united," Gelsinger replied. A key component to sealing this deal was solidarity, Smith explained. Everyone involved, from the township trustees to county commissioners to the governor, worked cohesively, as a team.
 
"Everybody stayed focused on the needs, the questions and concerns Intel had that needed to be addressed to get us to this point," Smith said. And, not only did he experience the synergy himself, but he also helped cultivate it by collaborating with DeWine, JobsOhio's executive team and many others to keep them apprised of the latest developments — all the challenges, opportunities, successes and more — with the proposed Intel project.
 
"It's very gratifying at this point in my career to be a part of something like this," Smith said the day of the project's groundbreaking ceremony. "It's also been very gratifying to see ONU alums who've been very instrumental in the success of JobsOhio and with this project specifically."
 
"Landing the Intel investment in Ohio will impact generations to come in this great state," said ONU alumnus Ted Griffith, who serves as managing director for JobsOhio's technology sector. "Over the last seven years, the team at JobsOhio and its regional partners focused and grew the technology sector of Ohio, creating the foundation to win Intel."
 
"When I returned to Ohio from a technology career around the globe, I wanted to make a difference in the state that I grew up in," Griffith continued.  "Winning Intel as well as Amazon, Google, Facebook, and hundreds more companies to grow in Ohio is never about just one person, but rather has always been a team effort. The team includes the Governor, Lt. Governor, all the employees of JobsOhio and its six regional partners across the state and several departments in city, county and state government."
 
Key Ohio Northern alumni:
·      Mike DeWine, JD '72, Governor of Ohio.
·      Robert "Bob" Smith, BSBA '75. Smith was the JobsOhio board chair and is also a partner and Cleveland market leader for the wealth management firm Cerity Partners. He chairs the board for TeamNEO and is a Cleveland businessman and civic leader.
·      John Bishop, BSBA '72, is the longest tenured JobsOhio board member. He is the former CEO, chair and president of Encova Insurance Group.
·      Lori Gillett, BSCE '96, is one of the newest JobsOhio board of directors members, beginning her tenure in 2021. She is the CEO of Corna Kokosing Construction Company.
·      Ted Griffith, BSEE '90, is JobsOhio's managing director of the technology sector.
·      Donald Grubbs, BA '83, is general counsel for JobsOhio. He worked for Buckley, King, L.P.A.