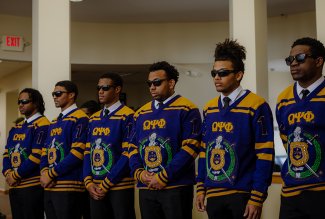 Students lead effort to bring a "Divine Nine" fraternity to campus.
Ohio Northern University's Affinity Commons was awash in royal purple and old gold on Sunday, March 27, when the men of Omega Psi Phi — one of the historically African American fraternities and sororities that make up the "Divine Nine" — held a yard show on campus to initiate new members and announce their intention of forming a full chapter on campus.
"The Divine Nine is huge. It's something that I get asked about a lot from high school students and athletic recruits. They constantly want to know if we have any chapters," says Holton Watson, assistant director of multicultural development.
The fraternities that comprise the Divine Nine are Omega Psi Phi, Alpha Phi Alpha, Kappa Alpha Psi, Phi Beta Sigma and Iota Phi Theta. The sororities include Alpha Kappa Alpha, Delta Sigma Theta, Zeta Phi Beta and Sigma Gamma Rho. Omega Psi Phi holds the distinction of being the first Greek organization to be founded at an HBCU (historically black college or university) when it began at Howard University in 1911.
Adding Omega Psi Phi to ONU's existing Greek organizations is seen as another step in enhancing diversity, equity and inclusion on campus. While the University offers numerous clubs and organization for cultural representation such as the Black Student Union, Asian American Student Union and Latino Student Union, a social fraternity with its own housing increases the level of identity and inclusion for students who would wish to join, in accordance with Omega Psi Phi's motto: "friendship is essential to the soul."
Currently, ONU's relationship with the fraternity is as a member institution of what is known as a cluster. Clusters are a regional chapters that serve students from a group of colleges and universities that share geographical proximity. ONU is part of a cluster with Bowling Green State University, Tiffin University, the University of Findlay and the University of Toledo. Eventually, ONU hopes to have enough interested students to form a full chapter of its own.
At the event on campus, two Omegas from ONU; Holton Watson, BSBA '20, and Yishaq Watson, a junior accounting major, joined three initiates from the University of Toledo, and one each from BGSU and Tiffin. Two more ONU students; Nichal Johnson, a junior finance major, and Gerald Harris, a junior marketing major, joined Omega Psi Phi last year, and in fact, it was Johnson who initiated the drive to connect ONU with the fraternity. They were all presented with cardigan sweaters as part of the ceremony, which they donned briefly before changing into military-style fatigues for the second half of the event: the step show.
Step dancing, or stepping, is a tradition dating back to the earliest days of fraternities in the 1900s. It is a form of group percussive dance with roots in African and Caribbean dance. The members of the incoming class performed a routine together, with various individual members being asked to perform individual pieces such as songs or recitations of Omega Psi Phi history. Omegas in attendance joined together at the culmination of the ritual to finalize the initiation of the fraternities new members.
One such Omega man was Jeffrey Rollins, Northwest Ohio area representative and membership chairman for the Xi Tau chapter of Omega Psi Phi. "He is a big reason why this was able to happen," said Watson. "He connects with chapters all over the area and he was able to help this come together." Rollins actually has a connection to ONU as his wife Rochelle Hall-Rollins, PharmD '12, and nephew Michael Hunter, BS '09, both attended. His familiarity with the University helped him see how Omegas could thrive in Ada.
"It's been a beautiful experience working with ONU. We saw that there was a commitment to make this happen and that ONU had the caliber of students that meet our standards. Everyone from the administration down just went over and beyond what I've seen from any other school I've worked with," said Rollins.
ONU hopes events such as the Omega Psi Phi yard show, as well as the larger effort to bring a full chapter to campus, will continue as they represent action items of ONU's pledge to improve diversity, equity and inclusion on campus. In June 2020, President Dan DiBiasio announced to campus a series of actions the University would be taking to accelerate changes and make more positive progress in these areas. Other items included changes to structure and policy, recruiting strategies, core teaching and learning requirements, and campus life, many of which would be aided by having a Divine Nine fraternity on campus.
 
For more information about this topic, please contact the Office of Multicultural Development.