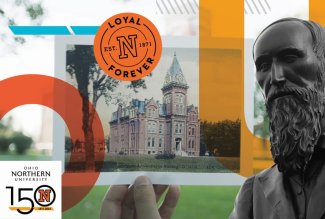 One individual with a transformative academic vision began what has become a singular and successful collective pursuit to positively change the world. One hundred and fifty years later, Ohio Northern University is now celebrating its founding with a year-long sesquicentennial celebration focusing on the past, present and future. The Polar Bear community invites everyone to participate in events that will feature music, art, food, fun, nostalgic activities and forward-thinking interaction for all ages.
"The sesquicentennial is clearly a time to celebrate our achievements, the boldness of our origin story, and to look ahead to the promise of our future. It is an opportunity to let our legacy shine," says ONU President Dan DiBiasio.
"If the past is prologue, we will create a future where the legacy of ONU can help us flourish and our enduring strengths can help us thrive," DiBiasio added.
ONU's sesquicentennial is dedicated to intrepid founder Henry Solomon Lehr, who in 1871 created the Northwestern Ohio Normal School as a teacher training institution. Lehr, who became a teacher himself, grew up impoverished in a family that included 10 siblings. At the time, formal education was considered a luxury and items such as matches were too expensive for many agrarian households. Yet, Lehr, a gifted learner, was determined to follow his professional calling. Establishing a rural institution not long after the Civil War ended in what was then still part of the Northwest Territory was H.S. Lehr's way of helping others achieve their highest potential.
Rather than embracing a steadfast operational philosophy, Lehr envisioned an institution that would evolve to meet the changing needs of its students and society. "Under ordinary conditions a school as well as a tree must continue to grow. When growth ceases, there is danger of decay," he wrote. Over the course of its 15 decades, ONU has adhered to Lehr's ethos by intellectually and structurally expanding and adapting while still remaining small enough to maintain a familial atmosphere. That's why ONU's sesquicentennial will be honoring the past while recognizing more recent accomplishments such as playing a key role in vaccinating Ohio's rural population against COVID-19, upgrading lighting campus-wide this summer for more sustainable operations, creating the student-led Institute for Civics and Public Policy that analyzes and interprets the most pressing issues of the moment, and embracing state-of-the-art technological innovations via the newer James Lehr Kennedy Engineering Building.
Notable alumni will also be recognized throughout the year. ONU has been a servant leadership launching pad for influential individuals such as Ohio Gov. Mike DeWine, JD '72; Dr. George W. Crile, BA 1885, who co-founded the Cleveland Clinic and served as its president; and Carrie (Wurgler) Smith, BSEE '85, the CEO of Parsons, a technology-focused defense, intelligence, security and infrastructure engineering firm that assists the U.S. government with preventing and mitigating cyber threats to critical infrastructure sectors.
Some upcoming 150th birthday plans will include:
• July - The summer 2021 issue of ONU Magazine, special issue that will be larger in page number and scope, will include compelling sesquicentennial-focused content.
• July 2 - Patriotic Pops, a free, outdoor concert hosted by ONU and performed by the Lima Symphony Orchestra, will return to campus to celebrate both the nation's birthday.
• Aug. 14 - On this date, the first classes at the original Northwest Ohio Normal School took place.
• Aug. 23-26 – Several Opening Weekend events for the campus community will welcome the 2021-22 school year.
• Oct. 1-3 – Homecoming Weekend will feature the debut of an ONU historical documentary and the theater production of "Beauty and the Beast."
• Fall 2021 – Both a commissioned choral work and a fine art piece will be debuted to commemorate the sesquicentennial. The choral work will be perfomed throughout the 2021-22 academic year.
• Feb. 27, 2022 - National Polar Bear Day, an environmental conservation day, will include alumni events and gatherings across the nation.
• June 2022 - Reunion Weekend will mark the final ONU sesquicentennial event.
Other academic, performative and community-focused events are still being planned, with details to be offered as the celebration progresses. For a listing of current events, visit ONU's sesquicentennial webpage at www.onu.edu/150.
The Ohio Northern University community is eagerly looking forward to commemorating this milestone celebration by sharing many of its amazing stories, creating new ones and moving forward together toward future successes.