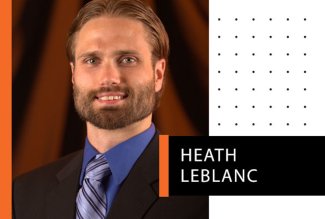 Dr. Heath LeBlanc, associate professor of electrical and computer engineering at Ohio Northern University, has been selected to receive the 2021 National KEEN (Kern Entrepreneurial Engineering Network) Rising Star Award.
The award recognizes faculty members who display an entrepreneurial mindset in their careers as educators and who contribute to the profession in that manner.
The award will give LeBlanc, through ONU, a $25,000 grant from the Kern Family Foundation, with LeBlanc named as principal investigator to advance KEEN's mission with a project of his choosing. He will also receive an all-expenses-paid trip to attend the 2022 KEEN National Conference, where he will be recognized. In addition, his story will be published online by KEEN.
LeBlanc's research interests include resilient cooperative control, networked control systems, distributed estimation, and security and resilience of Cyber-Physical Systems (CPS). His teaching interests include control systems, signals & systems, system design, electromagnetics, circuits, engineering economics, and integrating the entrepreneurial mindset in core engineering courses.
He has taught at ONU since 2012 and has been involved with KEEN since his arrival.
LeBlanc's insight into how processes intersect with practices on social, business and networking levels has garnered him attention in the engineering field. He has noted "how integral value creation is to engineering, and that engineers don't solve interesting problems; they solve important problems, where importance is defined with respect to the value created by the solution."
When nominating LeBlanc for the award, T.J. Smull College of Engineering Dean Dr. J.-D. Yoder described LeBlanc's deep engagement with promoting entrepreneurially-minded learning (EML) at ONU and across the network. KEEN was impressed by his work on 72 cards on EngineeringUnleashed.com, a KEEN-sponsored knowledge-sharing website; and by his presentations at national conventions and conferences such as IEEE Frontiers in Education, the American Society for Engineering Education (ASEE) Annual Conference and the KEEN National Conference. He has also worked directly with KEEN collaborators at institutions such as the University of St. Thomas, the University of Wisconsin-Platteville, Lehigh University, Western New England University and Bucknell University.
"It is difficult to imagine any other individual who has had that much impact on the platform (EngineeringUnleashed.com)," Yoder wrote to KEEN of LeBlanc. "We would add that it is difficult to imagine an individual who has had a greater impact on sharing the goals of the network and EML," the KEEN awards committee stated in its award announcement.
KEEN further praised LeBlanc for his "understanding that EM is a way to focus students on the most important part of engineering: creating solutions that provide value to people."
LeBlanc earned a B.S. in Electrical Engineering from Louisiana State University, and a master's degree and Ph.D. in electrical engineering from Vanderbilt University.
An awards committee made up of KEEN partner leaders annually selects as Rising Stars three faculty from a national pool of candidates. This marks the second consecutive year that KEEN has granted this award to an ONU faculty member. Last year's KEEN Rising Star Award recipient was J. Blake Hylton, associate professor of mechanical engineering.