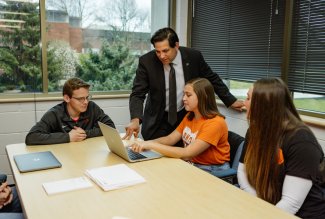 The Institute for Civics and Public Policy (ICAPP) at Ohio Northern University has released the Northern Poll, a web-based poll of 668 likely voters in Ohio taken from October 11th to October 15th. Dr. Robert Alexander (Ohio Northern University) Dr. John Curiel (Ohio Northern University), and Professor Tyler Steelman (University of North Carolina) led the project. Student ICAPP Fellows assisted with compiling data outcomes.
Horse Race in Ohio
Tim Ryan holds a slight lead over JD Vance (43%-41%) in the race to replace Republican Rob Portman in the U.S. Senate. Governor Mike DeWine appears to be cruising to a second term as respondents prefer him 2-1 over Nan Whaley. The state's shift rightward is apparent as Republicans are preferred over Democrats for Ohio Supreme Court (49% to 35%) and in House races in the state (54% to 36%).
Quote: "Although a longshot, it would appear that Tim Ryan has a legitimate chance to flip a Senate seat that would have been unthinkable six months ago. In a time where few voters split their tickets, it is likely that Ohio will witness a significant number of DeWine-Ryan voters in November." Dr. Robert Alexander, Ohio Northern University
A Joe Biden–Donald Trump rematch?
Respondents give Joe Biden low marks for his job approval (36%) and his handling of the economy (33%). Donald Trump continues to have strong support in the Buckeye State (55% favorability), almost half of Ohioans would like to see a Biden-Trump rematch, and most believe Trump would win (54%). Seventy percent of Republican respondents want to see Trump run in 2024.  
Quote: "In spite of his many controversies, Republicans in the state of Ohio continue to stand by Trump, with most wanting to see him run again in 2024. Many would love to see a Biden-Trump rematch as they think Trump would win if it occurs." Dr. Robert Alexander, Ohio Northern University
Trump and January 6th
Ninety percent of Democrats see January 6th as a major problem compared to 48% of Republicans and while over 80% of Democrats blame Trump, less than a quarter of Republicans do. Only 23% of Republican respondents believe Joe Biden won the 2020 election.
Quote: "While the party losing an election need not be happy about the results, a functional democracy necessitates that they accept the results absent any credible evidence of fraud. This ends-justify-the-means complacency among Republican respondents reveals that the necessary conditions for a democracy to survive is in serious danger."  Dr. John Curiel, Ohio Northern University
Toxic Political Environment
Ohioans believe average people are afraid to talk about politics (70%), relationships have been strained (65%) because of it, and 78% believe it is as toxic as it has ever been in their lifetimes. Democrats and Republicans agree that the United States has been weakened on the world stage because of our political environment (77%), 82% are worried about America's future because of this environment, and 71% are worried it will lead to increased violence.
Quote: "If Ohioans can agree on one thing, it's that the current political environment is toxic, has ruined relationships, and is bad for the United States as a whole. While most believe that people should be able to talk about their differences, few are willing to do so and many are worried our lack of civility will only get worse. The warning signs for democracy are flashing." Dr. Robert Alexander, Ohio Northern University
Ohio voters have mixed feelings on abortion
Fifty percent of Ohio respondents believe the states should have the right to determine the issue of abortion and a slim majority think it should be mostly legal. Democrats and Republicans are responding to the issue very differently with nearly two-thirds of Democrats being "very motivated" to vote because of the issue compared to just 44% of Republicans.
Quote: "In a state that has moved to the right politically, the issue of abortion will likely bring more Democrats and Independents to the polls than might typically be expected in a Midterm election. This will be a key if Tim Ryan is to have any chance at all in upsetting JD Vance." Robert Alexander, Ohio Northern University
Redistricting in the Ohio
Ohio has had one of the most controversial experiences with the redistricting process in the country and yet just 30% of our respondents have heard "a lot" about the issue. Interestingly, Democrats and Republicans largely share similar attitudes regarding redistricting–even if those attitudes are not borne out in the maps that have been adopted by the legislature.
Quote: "For the most contentious state redistricting process in the nation, voters are surprisingly unengaged. Whether due to confusion around the process, reporting, or general lack of interest, few voters appear to understand or care about redistricting or know the tradeoffs involved in prioritizing competing concerns." Dr. John Curiel, Ohio Northern University
Ohioans hold surprising views on the Electoral College
By and large, Ohio respondents are very critical of the Electoral College, with 56% opting for a national vote, 65% who are worried that national vote winners may lose in the Electoral College, and 66% who are concerned that Congress may overturn Electoral College results when they meet to certify votes in January.
Quote: "Ohioans have surprisingly deep concerns about the way Americans select the country's president and vice-president. This is especially true when it comes to Electoral College winners who don't win the popular vote as well as post-election problems associated with the Electoral College such as potential faithless electors or Congress overturning Electoral College results." Robert Alexander, Ohio Northern University
Election Administration in Ohio
Not surprisingly, Democrats and Republicans are divided over many issues related to election administration, including support for automatic voter registration, ballot drop boxes, making election day a holiday, and requiring voter identification. Democrats consistently favor efforts to ease voter accessibility, and Republicans tend to favor tighter restrictions in regard to casting one's vote.
Quote: "Ohio appears to be on track with the rest of the nation in following the recent trend of polarization over ballot access. While some policies see bipartisan majorities, Republicans in Ohio appear far more skeptical about increasing the ease to vote, and are far more in favor of policies that would increase voting costs." Dr. John Curiel, Ohio Northern University
For more Northern Poll '22 details, including methodology, visit www.onu.edu/northern-poll.