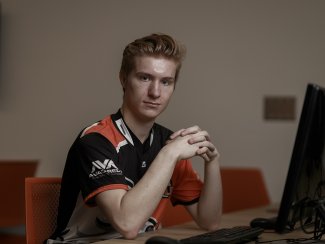 National top-ranking esports player improves his game through ONU esports
When Ohio Northern University launched its esports program last fall, no one was quite sure what to expect. After all, it is rare for a start-up of any variety to excel right out of the gate. Compound the growing pains of creating something new with the rigors of competition, and it's easy to see why even professional expansion teams struggle. But ONU esports did excel in its first year, winning a pair of "League of Legends" titles and earning two runner-up finishes in "Overwatch" last fall. The Polar Bears have also competed in multiple invitationals where they have played against several schools with the esports equivalent of a Division 1 athletic team.
So how did ONU buck the trend? In a word – talent. 
Sophomore computer science major Joren Kirsis has spent well over half his life playing video games and has spent countless hours refining and perfecting his craft. All that time, effort and practice has paid off in the form of a collegiate esports career that has helped him grow as a player and as a person.
On the ONU esports team, Kirsis is the top player on the Overwatch team and goes by the gamertag Dizian. He plays the position of DPS (damage per second), which is a character class that focuses on doing a lot of damage quickly, or in bursts. It's one of the most vital positions on the team and requires lightning fast aiming and triggering and spot-on accuracy.
But Kirsis' level of skill in Overwatch is more than just good – he's in the top 1 percent of Overwatch players in the world.
Now, Kirsis is thousands of miles from where he was just over a year ago – literally. A native of Homer, Alaska – the Halibut fishing capital of the world – he grew up in a town with roughly the same population as Ada, Ohio, but with a land area about 11 times larger. Given its remote location, there aren't a lot of options for entertainment or escape in Homer. Unfortunately, for many in his hometown, this isolation becomes a gateway into drug abuse, but for Kirsis, it became a foray into what would become perhaps his greatest passion.
"People will get really into something 'outdoorsy' – hunting, hiking, ice skating, etc. And I got into gaming," he says. "That was just my stress relief, coping mechanism. Long day of school, go home and game for X amount of hours."
Kirsis started playing competitively when he was around 10-12 years old, playing as part of a virtual team in the first-person shooter "Team Fortress 2." Then at age 16, he began playing Overwatch. Within about two years, he had already broken into the top 500 Overwatch players in the nation. To date, the highest rank he's ever received in Overwatch was 4,461, which is roughly eight games off from No. 1 player in the world.
Kirsis' skill level is so advanced that he could pursue a professional esports career if he wanted to, but practicing 11 hours a day, seven days a week, as pros are required to do, would leave virtually no time for anything other than gaming. There are other things he wants out of life – namely, a well-rounded college experience.
"Sure, I love video games. I grew up on them, but I don't want to nonstop play," he says. "I want to go out with my friends and do fun things, too."
When looking at colleges, he mainly looked at schools with two key components – a good esports program and a degree offering computer science with a focus on game design. Ohio Northern University wasn't even on his radar, but when he created an online profile on a college recruiting website, it caught the eye of ONU esports coach Troy Chiefari, who in turn reached out to Kirsis.
"What caught my eye was that [Chiefari] actually used to coach semi-professional League of Legends teams," says Kirsis. "He didn't actually coach Overwatch, but if he coached one game really good, all you really need to know is the basic knowledge. Also, since he was a really young guy, he spoke to me more on the same level. That was pretty cool."
After comparing multiple college options, he found that Ohio Northern offered the best financial aid and scholarship package, so without even stepping foot on campus, he committed to become a Polar Bear.
Kirsis wasn't sure what to expect joining a start-up esports program at a small rural University, but he uncovered several pleasant surprises along the way.
ONU's brand-new esports facility was a welcome change compared to his gaming setup at home. With multiple LAN rooms, spacious gaming stations and state-of-the-art gaming computers, it was more than just an upgrade – it allowed him to play better than ever before.
"At home, I had such bad internet speed and such a bad rig that I couldn't play any characters that required a super high amount of skill," he says. "After I got here to ONU, I actually picked up more characters, and I was able to play a lot more with a lot better rig and consistency."
As previously noted, the ONU esports team's inaugural fall 2019 and spring 2020 seasons were incredibly successful, boasting a near-perfect record and even defeating top esports programs like The Ohio State University. League championships and runner-up finishes proved that Chiefari and his players were certainly doing something right, due in no small part to Kirsis' efforts.
The socialization with teammates during esports practice and competitions has also sharpened Kirsis' competitive edge. Before coming to ONU, he was focused almost solely on his own individual performance; he always played alone in a room by himself. As an ONU esports player, he now plays alongside his teammates in a shared physical space. The game he was playing was the same, but the dynamic of being part of a cohesive team seemed foreign to him at first.
"The hard part is learning how each person on your team operates because everybody has their flaws, everybody has their strengths, and you have to adjust for each one of them individually," he says. "That's pretty much developing teamplay. We're still to this day developing teamplay."
Of course, this is something that takes time, but it's a learning experience for Kirsis that has led to considerable growth in a way that nothing else could have. Chiefari has witnessed this growth from day one.
"Joren came into esports being a very individual-minded player, very talented and a well-rounded player in terms of mechanics for the game," says Chiefari, "but he did not have the development opportunities to play on a team and build experience with interpersonal relationships and teamwork. With his time here at ONU playing esports for us on a structured team, he's learning all new attributes to making him more competitive."
Beyond enhancing his skill level, though, ONU esports has enriched Kirsis' life in a more personal sense as well. ONU's warm, friendly atmosphere made him feel welcome from the very beginning, and he values the friendships he's built with his fellow Polar Bears. When he's not studying or competing, he enjoys partaking in fun events and activities with the ONU Gaming Club like watch parties and casual gaming. To sum it up, he simply enjoys the company of others who share similar interests.
I'M FRIENDS WITH PEOPLE I WOULD'VE NEVER BEEN FRIENDS WITH BEFORE," HE SAYS. "GAMING IS JUST A HUGE CONNECTING BRIDGE TO EACH OTHER'S HEARTS. I'VE MET SOME REALLY ASSERTIVE PEOPLE HERE THAT ARE TEACHING ME HOW TO JUST BE BETTER AT LIFE IN GENERAL. MY EXPERIENCE HAS BEEN PRETTY POSITIVE SO FAR."
Looking ahead to the upcoming 2020-21 seasons, Kirsis is prepared to face some of the toughest collegiate competitors in esports, and now that he's a Polar Bear, he and his team are more unstoppable than ever.