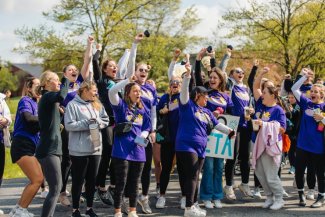 New student organizations are continuing to give Ohio Northern University students more opportunities to learn, play and make stronger connections with their fellow Polar Bears and community.
During this 2022-23 academic year, 12 student organizations were approved, adding to the approximately 200 student organizations. 
The addition of a dozen organizations is considered notable by ONU Director of Student Involvement Jennifer Lambdin; many academic years see eight or fewer groups started, she said.
The COVID-19 pandemic has impacted student-founded organization totals.
"We lost a lot (of groups) during COVID-19. We had groups that just could not keep up with it, and they disbanded," Lambdin said. "So, while 12 is not our normal number, I'm not surprised by it either, because now people are back and interacting and identifying what else they would like from their college experience. I think it's wonderful we're filling those holes of those interests."
Opportunities for student engagement to reach pre-pandemic levels is something that excites ONU Student Senate Secretary of Student Organizations Alex Duke.
"I think one of the things that makes ONU unique and so impactful to many students is the opportunities to get involved on campus through organizations," Duke said, "so I am thrilled to see student life quickly bouncing back to pre-pandemic levels. It will certainly help students meet new people and pursue their interests."
Of the new groups, ONU Ski Club is making its return after the pandemic, while the rest are new organizations. More than half are professional- or honors-focused entities, with three pertaining to law, two for health studies, and two representing honors groups.
"I am very impressed that more than half of the new organizations created were professional and honors focused," Duke said. "I feel that it provides great opportunities for students to apply concepts learned in class, develop their professional and networking skills, as well as learn things about their industry that can't be taught in a classroom environment."
Lambdin said the creation of multiple professional and honors groups follows an existing trend at ONU.
"Close to half of our student organizations are some type of professional- or career-focused organization, so I think it fits what we already have and is filling the gaps" she said.
While many organizations might have the same big-picture topic, such as law, health, faith, etc., students have been able to create groups that fill a specific niche or take a new approach on the topic, Lambdin added.
"To me, it's really fascinating that students find these specialized groups, and I think it's really rewarding to the students to get to see all the possibilities of what can be available to them to gain experiences and knowledge in," Lambdin said. "A lot of groups are forming because a group wants a specific niche, and they work to bring it to campus. It's awesome that they are assuming leadership and taking action instead of just wishing that an organization was present on campus. Instead, our students are solving the problem."
Lambdin said interactive- or hobby-type groups are also crucial to student life on any campus, giving students an outlet to meet people who have similar interests and discover new activities they might not have previously considered.
ONU's new student organizations include:
Lawtinos:
Members discuss any and all issues, news, accomplishments, and resources surrounding the Latino community.
Parks and REC:
The group encourages student engagement in outdoor recreational, educational, and conservational activities while allowing students to gain an enhanced respect and awareness about the natural world around Ohio Northern University and beyond.
NCODA (National Community Oncology Dispensing Association):
NCODA Professional Student Organization chapters are dedicated to enhancing students' understanding of oncology.
IPhO (Industry Pharmacists Organization):
IPhO furthers student understanding of roles within the pharmaceutical industry.
Delta Delta Epsilon:
This forensic biology-specific international honors society for juniors and seniors promotes scholarship, leadership and professionalism.
TEA @ ONU:
The Themed Entertainment Association helps build awareness of the themed entertainment industry and provides interested students a forum to share ideas and build their understanding of the industry from a global perspective. 
ONU Ski Club:
An organization all about skiing and snowboarding, the group helps beginners and expert skiers/boarders by acquiring pass discounts and organizing trips to the slopes.
Art Club:
Members meet weekly to partake in various artistic activities, such as illustration, painting, crafts, and coloring.
OUTLaws:
The group seeks to increase and maintain awareness among members of the ONU and College of Law communities regarding the concerns of LGBTQ+ individuals. 
Civil Rights Law Journal:
Members engage in and encourage vital conversations about the advancement of individual freedom and human dignity.
Alpha Tau Delta:
This national professional fraternity for nursing students promotes personal and intellectual growth through education, character enrichment, networking, and leadership.
Chi Alpha (Chi Alpha Christian Fellowship):
The group, which meets weekly, nurtures everyone's relationship with God by serving others, spreading the word within the community and conversing with others who may not have a relationship with God. Meetings are open to anyone to attend, and include activities such as gender-specific Bible studies, big group co-ed Bible studies and large group worship events.
A complete list of student organizations can be found on the Northern Network.