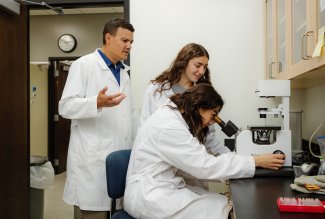 First-year students Victoria Kempton, Marisa Savini and Aleece Al-Olimat are not only the first three students to enroll in Ohio Northern University's new interdisciplinary neuroscience program, they were each inspired to learn more about the human brain because of a pivotal life event.
For Victoria, from Huber Heights, Ohio, it was dissecting a sheep's brain in high school. "This was one of the first times I actively engaged in my school work," she says. That type of hands-on learning happens every day at ONU, which is why she chose to come here. Victoria can't wait to delve into the intricacies of how each individual operates and responds to different stimuli. She anticipates a career aiding people with multiple sclerosis through neuropsychology.
For Marisa, who grew up in a medical family in Troy, Ohio, the pivotal event was almost crashing her car on icy roads one winter. The scare made her realize "how amazing the nervous system is" and it motivated her to want to gain more knowledge on how the brain interacts with the body. She wants to be a doctor or clinical researcher.
When Aleece was only 4-years-old, doctors diagnosed her with epilepsy, and she's been eager to learn more about the mysteries of the human brain ever since. As an Ada High School student, she took classes at ONU and came to love the University. She knew the neuroscience program would be top notch. "The teachers are understanding and incredibly helpful outside of class, and I felt as though they genuinely cared for my education and well-being," she says. She's also majoring in computer science and envisions a career working with neural prosthetics or AI technology.
ONU's new neuroscience program approaches the study of the brain from the micro level (biology, chemistry of neurons, DNA, proteins) as well as the macro level (psychology). This interdisciplinary approach allows students to discover which area of inquiry most interests and excites them.
The program offers extensive opportunities for research experience in three different labs—psychology, chemistry and biology—which is a rare opportunity for undergraduate students. Combined with individual mentoring and additional hands-on learning, students graduate fully prepared for graduate school or medical school or a career in the neuroscience field of their choosing.
Career options in neuroscience are wide-ranging, including research scientist, physician (neurologist, psychiatrist); clinical psychologist; biostatistician; neuropsychologist; genetic counselor; brain imaging technician; epidemiologist, pharmaceutical; speech or language therapist; and occupational or physical therapist.