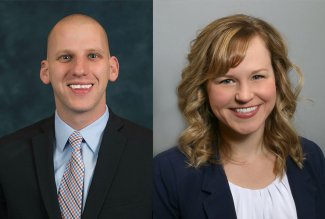 ADA, Ohio - NASA engineer Courtney M. (Hetrick) Schkurko, BSEE '13 and Kevin J. Saghy, BA '07, a social media specialist, have been selected to receive Ohio Northern University's 2021 William L. Robinson Young Alumni awards during homecoming weekend.
The ONU Alumni Association established the award to honor individuals who have graduated from the University within the last 15 years and who demonstrate passion and loyalty toward their profession, community and alma mater.
Schkurko and Saghy will be recognized during ceremonies prior to ONU's Oct. 2 Homecoming football game.
Schkurko, a resident of Bay Village, Ohio, graduated summa cum laude with a bachelor's degree in electrical engineering while minoring in applied mathematics and biomedical engineering. She now serves as engineering project manager for NASA Glenn Research Center in Cleveland, Ohio. Her work focuses on keeping astronauts safe while in space. She manages computational modeling projects within the Human Research Program to help quantify spaceflight-induced changes to human physiology and reduce the risk to human space travel.
Prior to joining NASA, Schkurko was a project manager in Rockwell Automation's Software & Control, where she was responsible for managing scope, scheduling and budgeting for certain product development projects. Also at Rockwell Automation, she was a control hardware engineer within the Intelligent Devices department, where she was responsible for the electronic design and implementation of new printed circuit boards and system verification for three-phase variable frequency drives. Earlier in her career, she was a systems engineer at RoviSys, also an automation business, providing project-based batch engineer programming for pharmaceutical and life sciences clients.
Schkurko has held leadership roles within the Society of Women Engineers, including as global president for Rockwell Automation's SWE chapter in 2020 and as vice president in 2019. She has also presented at national professional conferences. She volunteers at the Great Lakes Science Center and for the Girl Scouts of Northeast Ohio.
While at ONU, Schkurko was a Tau Beta Pi Engineering Honorary Member, received the Institute of Electrical and Electronic Engineers (Lima) Outstanding Future Engineers award in 2012, earned the DeBow Freed Award for Outstanding Leadership in 2010, and was a student commencement speaker. Additionally, she was a varsity swim team member, a U.S.A. triathlete and was an engineering tutor and lab assistant.
Saghy, of Delaware, Ohio, has served as the senior director of social media at The Ohio State University since 2018. He is responsible for planning, implementing, measuring and optimizing a social media strategy that furthers brand building, engagement and lead generation across the university. For 11 years, he has also been an advisory board member for The Plank Center for Leadership in Public Relations. He is a founding board member of the Ohio Northern University Chicago Alumni Club.
Prior to working for OSU, Saghy was the assistant director of communications for the Chicago Cubs, where he was responsible for promoting the team's business initiatives and community involvement through various communication channels while also directing the club's overall social media efforts. He was also an account executive for Ketchum, a public relations and communications consulting agency.
Saghy has won a Pride of Council for Advancement and Support of Education's (CASE) Gold Award, was a Global Platinum Finalist for Ohio State's worst-to-first social media turnaround this year, was honored by the Shorty Awards, received the Gold Honor in Sports in 2017, earned the Publicity Trumpet Award, earned an Overall Platinum Award in 2017, and received the Cubs All-Star Associate Award in 2017. Also this year, he received the Pride of CASE Grand Gold Award for COVID-19 communications pivoting.
At Ohio Northern, he graduated with a bachelor's degree in public relations with a business option. He served as the Public Relations Student Society of America's national president, interned for the sports information department, was a reporter for the Northern Review campus newspaper, served as student chair for the Communication Department Faculty Hiring Committee, and participated in several agency and corporate internships.
Saghy was president of Phi Eta Sigma Freshman National Honor Society from 2006-07, was a member of Omicron Delta Kappa National Leadership Honor Society in 2006, and was a member of Lambda Pi Eta National Communications Honor Society in 2006.