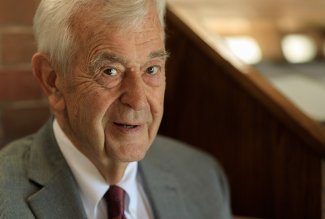 William "Bill" Robinson, BSEd '61, Hon. D. '05, fondly known as "Mr. ONU," devoted his entire career to serving students and furthering Ohio Northern University's mission. Even in his retirement, he and his wife, Gretchen, continue to make an impact, most recently by supporting ONU's Forward Together Campaign. Their generosity and the generosity of countless alumni whom they touched, is helping to propel ONU and its students into the future.
An ONU icon, Robinson worked in administrative capacities at ONU for more than 50 years. During this time, he went above and beyond to help the University's students, alumni, athletic teams, and staff thrive. 
Robinson's journey started in his hometown of Cleveland. At the age of 18, he landed the enviable job of traveling secretary for the Cleveland Indians. In the summers of 1952 and 1953 he watched up close the field exploits of baseball greats Larry Doby, Bob Feller, Bob Lemon, Early Wynn and more. Robinson then joined the U.S. Army and fought for three years in the Korean War, earning the Purple Heart.
After his army service, he enrolled at the College of Wooster where he met Gretchen. Gretchen completed a bachelor of arts degree at Wooster, but Robinson transferred to Ohio Northern to work with varsity athletic teams and finish a bachelor of science in education with honors in 1961. The couple married in July 1961 and celebrated their 60th wedding anniversary in 2021. They have two lovely children and five grandchildren.
Robinson told his new bride that they would only stay at ONU for two or three years, but that stretched into many, many more years. Gretchen received a second bachelor's degree from Pennsylvania State University and a master's degree from Indiana University Bloomington. She worked as a dietician in the hospital and healthcare industry, with extensive expertise in nutrition education, clinical research, and nutritional counseling. She taught courses in nutrition and biology at ONU in addition to supporting ONU programs like Angels for the Arts and engaging with countless students over the years.
Robinson, who earned his master's degree from BGSU, enjoyed a distinguished career at ONU that included stints as dean of men, dean of admissions, dean of student activities, vice president of advancement, director of alumni affairs and executive assistant to the president, to name a few. During his more than five decades at ONU, he influenced countless lives, passionately supported ONU athletics, and played a role in many important moments in ONU's journey.
ONU established the William L. Robinson Young Alumni Award in 2004 to be given each year to an individual who is committed to Ohio Northern, his or her profession and the community. ONU also dedicated Dial-Roberson Stadium's artificial turf field as "Bill Robinson Field." Robinson received an honorary degree from ONU and was inducted into the ONU Athletic Hall of Fame in 2005. He received ONU's alumni citation award twice! 
Robinson also was instrumental in establishing The William L. Robinson Fund, known as The Robby Fund, to assist students at ONU. Many ONU alumni who know and love Robinson contribute to this fund that provides financial support to enable students to study and graduate from ONU. In the 2022-23 academic year alone, 23 students received financial aid through The Robby Fund.
Ohio Northern wouldn't be what it is today without Bill and Gretchen Robinson. Their support for ONU's Forward Together campaign showcases their continued commitment to ONU. The impact of their contributions will be felt for decades to come.