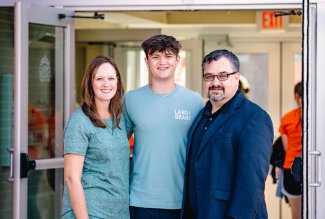 First-year Ohio Northern University pharmacy student Ayden Suchanek traveled far to pursue his degree dreams – 1,017 miles, to be exact. In mid-August, his parents, Angela "Angie" and David Suchanek, BSPh '95, came along to help their son with one of the most important rights of passage into adulthood: moving to college.
 
To find out what it's like for a family to experience an ONU Move-in Day, the Suchaneks agreed to share their thoughts along the way as they navigated through the emotional and physical odyssey of packing, traveling, unpacking, and goodbye hugs.
 
Florida Family
 
When Ayden was born, Angie and David's hopes for him were simple. "We just wanted him to be happy, healthy, and curious about life," they said. The couple got their wish. "At just a month old, Ayden had the most infectious personality. He was always smiling, giggling, and attracting an audience," they continued.
 
"Not much has changed as he's grown," Angie and David said.
 
The family, which also includes Ayden's younger sister, Sydney, lives in Oviedo, an Orlando suburb, where the outdoors and prime entertainment venues beckon year round. Season passes and regular visits to places such as Disney, Busch Gardens, and Kennedy Space Center have been mainstays. Sports and recreational activities ranging from basketball to wake surfing are also ingrained into Ayden's childhood. He holds a black belt in karate and played varsity baseball in high school; as a catcher during one senior year game, he led the team with a perfect catching game.
 
As if all the above activities didn't keep him busy enough, Ayden "has always been the sales entrepreneur with multiple side gigs," his parents noted. He used to resell sneakers, then started multiple social media channels for fishing and wake surfing, which led to influencer sponsorships and a cameo on a national brands fishing podcast. Video filming and production are additional fortes of his. "He always has something brewing," his dad, a pharmaceutical industry consultant, said.
 
So, what drew him to Ohio Northern University? The 0-6 Doctor of Pharmacy program is a national rarity, pointed out Ayden, who has been interested in the pharmacy profession for years. He's been inspired by his successful entrepreneur dad; by his aunt, Dr. Karen (Suchanek) Hudmon, BSPh '86, an award-winning researcher and leader in national public health improvement efforts who received the Raabe College of Pharmacy Distinguished Alumni Award; and by the altruism emphasized at the private Christian high school he attended. He worked at an independent pharmacy in high school and even received his Pharmacy Technician Certification while a senior. "I'm looking forward to helping patients live healthier lives," he said.
 
Previous trips to campus also helped seal the college decision deal. Over the years, Ayden had been to campus a handful of times with his dad for alumni events. He'd also attended ONU's summer pharmacy camp as a high schooler.
 
Northern Exposure
 
As departure day drew near, Ayden had mixed emotions. A lifelong Floridian, he knew what he'd be leaving, but also what awaited him.
 
"I have a lot of emotions leaving the state I've always known," he admitted. "It's hard leaving behind the friends I've grown up with my entire life. And, I'll miss the warm weather for sure! Yet I'm excited to make new relationships within the next chapter of my life. Although scary… I can't wait to finally move" to ONU.
 
The night before the long drive, he enjoyed one of his favorite meals: his mom's homemade lasagna, and made sure items such as a few family photos and his PS4 were packed. Several bulkier possessions had been shipped beforehand to friends in Dublin, Ohio, where they would be picked up and driven the rest of the way.
On Sunday, Aug. 13, Angie and Ayden hopped into Ayden's stuffed-to-the-gills Toyota CHR for their journey north. Determined to get to Dublin in two days, they hit the interstates, making only quick stops for food, fuel, and a brief rest. "We stopped at two Buc-ees" Ayden said, referring to the convenience store chain known for its large, eclectic collection of knickknacks. "We played music but for the most part we were talking or I was sleeping. My mom drove most of the way because she hates my driving for whatever reason." They then met David who flew into Columbus.
 
"Our route took us through the beautiful mountains of Tennessee and the countryside of Kentucky," said Angie. The two "had a lot of good conversations along the way," she added. "He didn't like my podcasts and I didn't like certain music he played, but the deal was, whoever was behind the wheel picked the media."
 
The trip "honestly was one of the best gifts for ending this chapter with him and watching him go off to the next," Angie said.
 
Move-in Day
 
The Suchaneks, along with their Dublin friends, arrived to campus at 9 a.m. on Move-in Day. The Ohio weather — sunny with temperatures in the 70s — was a welcome relief compared to the sweltering conditions the south was experiencing at that time. ONU's carefully choreographed traffic patterns led them to Founders Hall, Ayden's new home. With his dorm room located on the second floor, they grabbed some items and headed up.
 
Ayden's roommate was already there. The two had met in summer pharmacy camp and were well acquainted. The dorm room provides a nice Tundra view, but Ayden noticed he'd have to come up with a solution to his cramped top bunk bed, where ceiling ductwork intruded.
 
In short order thanks to Klondike's Krew, the army of returning students who annually help first-years lug their belongings on Move-in Day, Ayden had all of his items placed in the hallway so that the two roommates could coordinate what should go where. Moving was made easier by the fact that the family go-to carrying cases were several large, sturdy "blue bags."
 
"There were no issues on Move-in Day, except that I had to go to Walmart to get more stuff," Ayden said. "I forgot my USB to work my wireless keyboard. I also forgot my PS4 controller charger."
 
"Honestly, the entire process was very smooth and super efficient," said David. "It exceeded our expectations."
 
Following the run to Walmart, the Suchaneks enjoyed lunch before David and Angie headed back home.
 
"The big goodbye to my parents went well," Ayden thought. "The only tears were my mom's. But I think they were more excited than sad for me."
 
There was some initial nervousness about being on his own and knowing he'd have to balance a busy academic schedule, but Ayden admitted that, "overall, I'm more excited than apprehensive."
 
"Although goodbyes aren't easy, Ayden was ready to be on his own," Angie said. "Ayden has always been a good student, so we have few concerns. Due to his previous visits, he was already familiar with the campus. Also, with Dave being an ONU alumnus, it gave us the assurance and comfort we needed as we closed that door of his dorm and walked away."
 
Dave and Angie's advice for caregivers moving a child to college is: "Plan, Plan, Plan. Did we mention having a plan? Getting measurements and taking pictures of the dorm rooms was very helpful in making the shopping list. Joining the Facebook ONU Family page has been incredibly helpful too. Buying the 'blue bags' that collapse really made the packing, move-in and storage of them very efficient. Also, using the Amazon Lockers has been a very easy and essential way to get the last-minute additional items over to a student," the couple said.