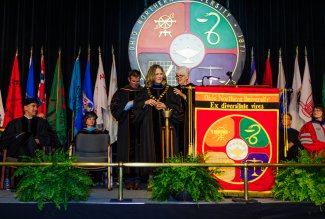 Higher education's enduring value featured prominently in a speech by President Melissa J. Baumann, Ph.D., given during her April 12, 2023 investiture ceremony, which formally recognized her as Ohio Northern University's 12th president.
 
"For me, access to higher education remains pivotal to everyone's personal success as well as societal success," she said. "Higher education should be focused on educating graduates who are equipped to solve the world's critical problems such as poverty, climate change, sustainability, water quality, access to quality and affordable healthcare, food scarcity, and perhaps today, most critically of all, to be a community where students learn to talk across differences and to engage with the people who have views that are different from their own."
 
Baumann thanked many for her professional success and personal accomplishments, particularly her family and its grounding in Christian faith. Her two daughters "are the center of my world," she said, while her father was a first-generation immigrant to America. As a refugee who, along with family members, was persecuted and fled Europe during World War II, he and his growing family persevered in the states thanks to love, community, a determined work ethic and a commitment to continuing education in the quest for excellence. Her father was also a polio survivor with a compromised immune system. "From my parents, I learned the value of time. Every minute of every day is precious," said Baumann, who was also a first-generation college student on both sides of her family.
 
Baumann's pursuit of an engineering degree and subsequent work in a field that remains overwhelmingly male dominated strengthened her tenacity, ultimately positioning her to become ONU's first woman president.
 
Justin Micomonaco, Ph.D., a friend and valued former colleague of Baumann's when she worked at Michigan State University (MSU), described her as a relentless professional who "revels in the success of others."
 
"Undoubtedly you are aware of her distinguished career as a materials scientist and higher education leader," said Mircomonaco, MSU Honors College's assistant dean during the ceremony. Those easily enumerated qualities, along with being an illustrious researcher, award-winning mentor and educator and talented administrator, tell only a part of the story. What makes her the ideal person to lead this great institution are the principals that drive her work: the way she values excellence, values people and values community."
 
As an MSU administrator, "she continuously reviewed the impact of programs and sought innovative solutions that prioritized the student experience," Mircomonaco continued. "I witness firsthand Dr. B's relentless pursuit of better outcomes through her willingness to question conventional wisdom and seek ways to improve her own work, the work of her unit, and the work of the institution. Even today she often slips in a simple but characteristic question during our conversations: 'Is there anything I can do for you?' Whether conducting research in bone and tissue engineering that can improve an individual's quality of life, or thinking critically about how university policy can positively impact those with whom she interacts, her desire to improve the lives of others motivates her."
 
During her remarks, Baumann acknowledged the many challenges that higher education faces, ranging, such as rising tuition costs and decreased enrollment due in part to Ohio's population reduction. However, she noted, ONU's net costs have remained the same for years, and the institution remains committed to remaining accessible to all who wish to enroll.
 
Along with leading the charge on the recently completed 5-year Stronger Together Strategic Plan and offering guidance for an upcoming campus master plan, both of which are intended to transform the ONU learning and living experience, Baumann specified additional goals. "We will continue to focus on excellence in the classroom and experiential learning, and we'll double our endowment within the next five years," she said.
 
The work that lies ahead will be a collaborative effort, Baumann insisted.
 
"A university education is done in community, with faculty and staff coming together in community to help students learn and to help them become the best versions of themselves," Baumann said. "I look forward, therefore, to our collective work that builds upon the strong foundations of our past, that leads us to imagine, and to build strength upon strength for our future. As Polar Bears, we truly are stronger together."