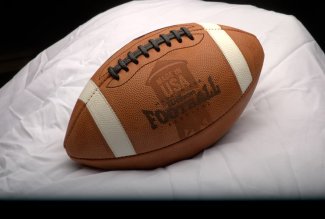 Get ready to have a ball! The Made in Ada Wilson Football Festival is resuming this year with festivities planned for Saturday, Aug. 28, from 11 a.m. to 10 p.m.
Organizers from the Village of Ada, Ohio Northern University and the renowned local Wilson Football Factory have fun events planned for guests of all ages. The day's activities will kick off at 11 a.m. at Ohio Northern University's Dial-Roberson Stadium with an ONU football intrasquad scrimmage. A Punt, Pass and Kick contest for youth ages 8 to 15 will be held at 1:30 p.m. at the stadium, with registration for four different age groups beginning at noon.
The festival will continue at the Ada Depot Park with the following tailgate events:
4 p.m. – Meet the coaches
5 p.m. – Raffle ticket sales begin for commemorative Wilson footballs, a smoker grill with cooler, a barbecue utensil set and a $100 Visa card.
5 p.m. – Food vendors open
5 p.m. – Ada Historical Society football exhibit
5 p.m. – Minor Blues Band
5:30-8:30 p.m. – The Wilson Experience: Learn how the Wilson footballs are made from the people who make these iconic balls.
5:30 p.m. Hourly drawings for raffle winners begin
7 p.m. – Last Call Saints
10 p.m. – Wilson football drop
For the Meet the Coaches event, the moderator will be Dean Paul, Head Football Coach for Ohio Northern University, a position he has held since 2004. Paul played football as a running back for Mount Union University. He was head coach at Thomas More College from 1999-2003.
Meet the Coaches panelists will include: 
Joe Billings, Head Football Coach for Allen East High School. He played collegiate football at Defiance College as a defensive lineman. Before joining the Allen East program, Billings was an assistant coach at Bellefontaine High School. He has served as an assistant coach with the Allen East Mustangs for the past five seasons.
Toby Smith, Head Football Coach for Ada High School. A graduate of Wittenberg University, Smith played a strong safety on the Tiger football team. He comes to Ada after serving one year as associate head coach and defensive coordinator at Lima High School. He was head coach at Bellefontaine from 2013-2019 and head coach at West Liberty- Salem from 1999-2012.
Zach Turner, Head Football Coach for Kenton High School. A 2007 Kenton High School graduate, he was a defensive back and receiver in the Wildcat program. Beginning in 2009, he served as assistant football coach, starting as a volunteer and later becoming an offensive coordinator. He graduated from the University of Findlay.
Since 1955, the Wilson Football Factory in Ada has made leather footballs for every NFL game, including the Super Bowl. The festival celebrates Ada's remarkable contribution to the sport of football.
The 2021 Made in Ada Wilson Football Festival is sponsored by: Liberty National Bank; Quest Federal Credit Union; Ada Area Chamber of Commerce; Bluffton Hospital; Hardin Memorial Hospital; Ohio Northern University; Hardin County Commissioner Tim Striker; Village of Ada; Wilson; Ada Grooming; Century 21 Sunway Realty, LLC; Subway of Ada; Ada Express; Amburgey Construction Company; William H. Bass Trucking; 3 Brothers Pizza; 302 Carry Out; Charles Van Dyne; Hanson, Neely Allison Funeral Home; HSLC; Jalapenos Mexican Grill; Liberty Financial Services; Midwest Rehab; NASG Ohio LLC; Peter Previte, Attorney at Law; Tavern 101; Vancrest of Ada; and Viva Maria Pizza & Pasta.