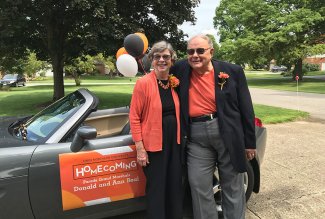 The grand marshals of this year's Homecoming parade, Donald "Don" Beal, BSEd '63 and Ann (Melkerson) Beal, BSEd '61, have attended every Ohio Northern University Homecoming from their student days up to today; that's an incredible 63 years for Don and 65 years for Ann.
For this Grove City, Ohio couple, "Loyal Forever" isn't merely a catchy Homecoming theme, it's central to who they are. Throughout their lives, they've held ONU friends, places and memories close to their hearts.
The Beals will be front and center on Saturday, Oct. 2, leading the parade in a convertible and receiving VIP treatment throughout the day's festivities. "Not only are Don and Ann ONU sweethearts, but together they are two of our most loyal Polar Bears," said Barb Meek, director of development for the Getty College of Arts & Sciences and ONU sesquicentennial project manager. "What an honor for ONU to have this wonderful couple serving as our Homecoming grand marshals during our sesquicentennial year."
Love blossoms
The Beals' ONU love story began in McIntosh Center, fall 1959, when they first met over breakfast. Ann worked at McIntosh clearing tables, but much to her chagrin, Don habitually arrived late to eat. In order to make it to her 8 a.m. class on time, she had to politely, but firmly, hurry him along every morning.
A junior, Ann wasn't interested in lowly freshman Don until she learned that he was actually one year older than her because he took a few years off after high school. However, it took Don until the spring quarter to "finally work up enough nerve" to ask Ann out. They went on their first date to Indian Lake during finals week in 1960. Over the summer, they devotedly wrote letters to each other every day. When Don learned that Ann was going to be on campus one day that summer, he made up an excuse to be there too. He fondly remembers parking his 1952 Plymouth alongside Presser Hall and giving Ann his Sigma Pi pin. Getting "pinned" meant going steady with an intent to get engaged. Indeed, they did get engaged and then married, Aug. 4, 1963, just a few months after Don graduated.
While students, Ann was a Delta Zeta who served as charter president, and Don was a Sigma Pi who served as pledge president, pledgemaster and president. Through their active involvement with Greek life, they made some of their dearest lifelong friends, including Robert (Bob) McCurdy, BSPh '65, Hon. D. '96 and William "Bill" Robinson, BSEd '61, Hon. D. '05, both of whom became iconic ONU administrators.
According to McCurdy, Don and Ann have been the driving force behind many friendships and connections between 1960s era alumni. In addition to Homecoming, the Beals regularly attend Franklin County alumni gatherings. Don also served on the ONU Alumni Association board in the 1960s, 70s and 80s. In 2003, Don received the Distinguished Alumni Award from ONU.  
"Don is passionate about everything he does to a fault, and he's absolutely passionate about ONU," explained McCurdy. "He is also very intentional when it comes to human relationships. When you combine the two, it's an amazing thing."
Not breaking the streak
The Beals did not set out to attend every ONU Homecoming for 60-plus years, it just happened, they said. Regardless of what was going on in their lives, Homecoming was sacred on their calendar. Don forged a successful business career and poured time and energy into his family and the Masons. Ann raised two children, taught English as a Second Language, and was involved with her church. But every fall, they came to campus to reconnect with friends and recharge their batteries. And at some point, "it just wouldn't feel right if we didn't do it," explained Don.
Their two children, Michael Beal and Sarah (Beal) Tepe, BSPh '91, both have end-of-September birthdays. But in 1965 and 1968 respectively, having newborns didn't stop Don and Ann from attending Homecoming. They attended in 1971, ONU's centennial year, when Ann's dad, Nils Oscar Melkerson, BSCE '31, was inducted into the Athletic Hall of Fame. The whole family was in the stands that day, including Ann's mother, ONU alumna Eleanor (Langshaw) Melkerson, BSEd '33.  "That was probably one of the most special Homecomings of them all," recalls Ann.
The Beals also attended in the late 80s and early 90s when their daughter Sarah--much to their delight--was an ONU student. Coincidentally, Sarah also met her spouse, John Tepe, BSBA '91, at ONU.
The Beals even returned last year when there wasn't a Homecoming because of the Covid-19 pandemic. Not wanting to break their streak, they came to Ada and McCurdy drove them around campus and through the parade route on a golf cart. In true parade spirit, they threw out candy to the Polar Bear cubs of Ann Donnelly Hamilton, BA '99.
Change and tradition
Returning to ONU every fall for more than half a century, the Beals have witnessed significant transformation to campus and to Homecoming activities. "The whole west side of campus didn't exist when we were students," says Don. "While our campus experience started around Main Street, it has gradually moved westward over the years."
They fondly recall early Homecomings with bonfires and beanies hoisted on flagpoles. Fraternities and sororities would elaborately decorate their houses, competing for votes, and the parade took place during May Day festivities, not Homecoming, they explained.
But while many things have changed about ONU and Homecoming, the most important thing hasn't changed, say the Beals, and that's relationships. For them, Homecoming is about coming home to a place where dear friends and memories reside. It's a place where laughter rings out, where friends old and new are delighted to see one another, and where cherished campus spots bring a rush of happy memories.
And over the years, the Beals themselves have become a Homecoming tradition. Every Homecoming weekend, they exchange greetings and catch up with ONU's president. They've gotten to know six ONU presidents through the years. Recently, they convinced President Dan DiBiasio to send their granddaughter (who graduated from the University of Toledo in May) an ONU graduation card, because the Beals still like to claim her as a Polar Bear cub.
According to McCurdy, Homecoming just wouldn't be the same without the Beals. They set up the expectation that they will be there year after year. "They have been true volunteer ambassadors for ONU," he said. "They always reach out to friends and encourage them to attend, and they keep everyone caught up on the news."
The Beals are greatly looking forward to this special sesquicentennial Homecoming. According to Don, it was an emotional moment when they were invited to be the parade's grand marshals. Many of their ONU friends and family will be in attendance to cheer them on along the parade route. And while this Homecoming is extra-special, the Beals will, God willing, be back in Ada next fall as well, because as Don explains: "we always come back to Northern."