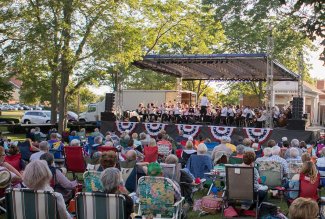 Pack a picnic basket, pull up a comfortable lawn chair and experience the extraordinary: Ohio Northern University's sixth annual "Patriotic Pops" concert will be held Friday, July 2 at 7 p.m.
The concert will represent the Lima Symphony Orchestra's return to in-person performances after a pandemic-related pause that has lasted more than a year. With all of the energy and synergy that occurs during a live concert, this free, outdoor Independence Day celebration in front of McIntosh Center promises to be meaningful and memorable for musicians and audience members alike.
In addition, this will mark the first time that the orchestra's recently hired music director, Andrew Crust, will be conducting before a live audience following several impressive virtual performances. Crust, an award-winning musician who also serves as the associate conductor of the Vancouver Symphony in Canada, has developed a versatile international career as a conductor of orchestral, opera, ballet and pops programs.
"This is our first live concert in 16 months and we are thrilled to take the stage again," says LSO Executive Director Elizabeth Brown-Ellis. "The beautiful outdoor venue at ONU is the perfect place to perform safely with an audience in these evolving times. Our 'Patriotic Pops' concerts celebrate our nation's determination, resiliency, and freedom by honoring our military men and women and highlighting the best American composers. I know this year's performance will be even more impactful."
Brown-Ellis says the orchestra adapted its performances during the pandemic to continue offering exceptional musical programming, but there is no substitute for in-person interaction.
"We were fortunate to find a way forward with digital programming last season, but musicians live and train to perform in front of an audience. I can barely imagine how powerful it will be to feel that energy again. There's something particularly magical about outdoor performances, and I know Maestro Crust is excited to welcome everyone back to live concerts at ONU," says Brown-Eillis. "Expect a tremendous performance and a huge celebration as we finally fully welcome Maestro Crust to our orchestra and our community."
Family friendly and filled with fun, Patriotic Pops will feature vibrant patriotic music, beloved selections from popular tunes, a tribute to our armed forces and several pieces from acclaimed films, including "Raiders of the Lost Arc," which this year is celebrating the 40th anniversary of its theatrical release.
For a convenient and delicious picnic option, The Inn at Ohio Northern University is offering pre-ordered box meals for $9.95 each. Menu selections include ham and cheese wrap, turkey and cheese wrap or a veggie wrap. Included will be kettle chips, a chocolate chip cookie and condiments. To pre-order, call 419-772-4266 or 419-772-4112.
In case of inclement weather, "Patriotic Pops" will be held in King Horn Sports Center on campus, 609 W. Lincoln Ave. Doors will open at 6 p.m. Concert goers are welcome to bring chairs and picnic food inside. Current CDC COVID-19 safety guidelines for indoor events will be followed.
The musical lineup is as follows:
"National Anthem" arranged by Richard Smith
"Hoe-Down" by Aaron Copland
"Stars and Stripes Forever" by John Philip Sousa, arranged by Leopold Stokowski
"Armed Forces Salute" arranged by Bob Lowden
"God Bless America" arranged by Bruce Healey
"American Salute" by Morton Gould
"Hang on Sloopy," arranged by Rinaldo Allesendrini
"West Side Story" selections by Leonard Bernstein
"Les Toreadors" by Georges Bizet
"Voulez-Vous" by ABBA, arranged by Andrew Crust
"The Sound of Music" selections by Richard Rodgers
"Summertime" by George Gershwin, arranged by Patrick Bouchon
"Pirates of the Caribbean" theme by Klaus Badelt, arranged by Ted Ricketts
"The Raider's March" from "Raiders of the Lost Arc" by John Williams
"1812 Overture" by Pyotr Ilyitch Tchaikovsky
"Patriotic Pops" is sponsored by Quest Federal Credit Union, Liberty National Bank, Ada Family Dentistry, Fresh Encounter Inc., Lewis Family, McDonald's, Robinson Fin and Little Chicago Room, Vancrest of Ada, Village of Ada, White's Honda-Toyota, Ada Area Chamber of Commerce, Fleming Family Trust, Hanson-Neely-Allison Funeral Home, Hardin County Chamber & Business Alliance, Home Savings and Loan Company, ONU Residence Life/Career Services, Rogers Nationwide Insurance Agency, Ada Kiwanis, Ada Rotary Club, Carol Slane Florist and Roger and Julie Crowe.