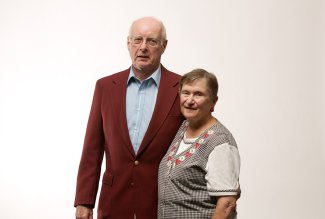 Long-time supporters Lee Stockton, BSCE '61, and his wife, Shirley Stockton, are significant Forward Together contributors thanks to their estate gift commitment to the T. J. Smull College of Engineering. This gift will ensure the College has the financial resources to provide opportunities for students, support engineering faculty and invest in new initiatives for the College.
The Stocktons' contribution supports the Engineering Dean's Discretionary Endowment, a fund that is already part of the University's endowment. In addition to their estate gift, the Stockton's have committed to support the Dean's Innovation Fund annually. They were also early investors in Ohio Northern's Campaign for Engineering: Building Impact at ONU, which led to the construction of the James Lehr Kennedy Engineering Building, and were inducted as life members of the Henry Solomon Lehr Society in 2016.
"We want to continue our commitment to Ohio Northern engineering now that the building is complete," explained Lee Stockton. "We continue to give now and assist the College with the present needs and will extend that giving through our estate." 
"Lee and Shirley Stockton have been wonderful supporters of Ohio Northern University Engineering," said College of Engineering Dean John-David Yoder. "With this latest commitment they create a deep, lasting legacy that will enable future deans to help the college for generations to come. I am so grateful for their generosity."
Lee Stockton received his civil engineering degree from ONU and worked for 43 years for Price Brothers of Dayton, Ohio, a company that manufactured concrete products for bridges, pipelines, culverts, sanitary sewers, floor and roof systems. He was active on American Society of Civil Engineers and American Society for Testing and Materials committees dealing with the design and installation of concrete pipe. He retired in 2004 as the senior vice president of the corporation. During his career, Stockton specialized in quality control, product design, research and development, product promotion, sales, field service and international marketing.