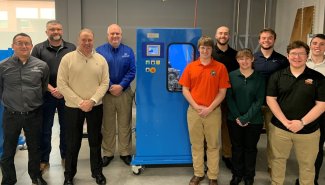 An engineering capstone project with Wauseon Machine & Manufacturing last year checked all the boxes. Real world application? Check. Challenges? Check. Multidisciplinary team? Check. Involved and receptive client? Check. Better-than-anticipated outcome? Check.
Redesigning an electric tube end former machine may not qualify as one of the splashiest capstones ever undertaken, says the team's co-advisor, Dr. David Mikesell, professor of mechanical engineering, "but it certainly ended up being one of the most successful."
It was so successful, in fact, that the capstone team not only achieved each of the project's hefty objectives, they delivered a re-engineered machine that is being sold by the company today with just a few minor modifications.
"I was impressed, and frankly a little humbled, by what the team was able to accomplish in a short amount of time," says Kurt Hoffman, BSME '92, director of engineering for Wauseon Machine & Manufacturing.
A capstone project takes shape
Hoffman had often thought about collaborating with the T.J. Smull College of Engineering. As a company leader and ONU alumnus, he sees value in helping budding engineers bridge the gap between the theoretical and real life. "(Capstones) provide a stepping stone for students going out in the real world of engineering," he says.
When his daughter, Carisa Hoffman, BSEE '22, reached her senior year at ONU, it was the incentive he needed to create a learning opportunity that would benefit her and her fellow classmates.
Wauseon Machine & Manufacturing is a northwest Ohio company that provides CNC machining, tube end forming equipment, custom machines and robotic automation to a growing customer base. While the company mainly specializes in customized machines, it builds a few products for stock.
Hoffman selected one of the company's top selling stock machines for the capstone project. The electric tube end forming machine is used to fabricate pipes that hold pressurized fluids. The machine shapes the end of the tubes into a specific style, such as flares, beads, reductions, or expansions, as needed for coupling.
Hoffman and the capstone team agreed upon three key objectives for the redesign. First, reduce the overall manufacturing cost of the machine. Second, reduce the machine's footprint (shrink its size). And third, and perhaps most importantly, implement key customer/operator feedback, such as improved containment of the lubricant runoff, a larger screen size and simplified user interface.
The capstone team members knew the project would be challenging and time-consuming, but each member approached the project with excitement and a can-do attitude, said Mikesell.
"I knew that I wanted to work on a project that was funded by a real company to gain experience interacting with a real-world client," said Cory Conkel, BSME '22, now a mechanical engineer for Battelle in Columbus. "This specific project interested me because there would be a lot of opportunity for design work, as well as getting hands-on turning wrenches as we developed our prototype."
Carisa also joined the team. She had interned at Wauseon Machines since her sophomore year in high school and had written the user manual for the machine, so her insider knowledge proved invaluable.
In addition to Carisa and Cory, the other team members were: Andrew Corbin, BSME '22; Jordan Mullett, BSME '22, Alissa Sayer, BSME '22; Levi Powell, BSEE '22, Jordan Brown, BSEE '22, and Greg Hassenpflug, EngEd '22. Mikesell and Dr. Health LeBlanc, associate professor of computer and electrical engineering, co-advised the eight-member team.
Overcoming hurdles
The team kicked off the project in summer 2022 with a visit to Wauseon Machine & Manufacturing to talk with company engineers and to see the machine in action. Throughout the course of the project, the students collaborated closely with their advisors, company engineers, and each other. They conducted extensive research, asked a lot of questions and bounced ideas around.
The electrical engineers tackled the monumental task of redesigning an electrical panel with thousands of wires. They also worked on upgrading the machine's user interface. The mechanical engineers focused on structural improvements to the machine as well as a footprint reduction. For all students involved, it was crash course in multidisciplinary teamwork.
"A lot of communication was going on back and forth," says Mikesell. "The students learned about techniques and processes they had no idea about."
The biggest hurdle the team encountered was the availability of components. "We had to be extremely proactive to select critical components with acceptable lead times and get them ordered in a timely manner in order to complete the project in the short, nine-month time frame," said Conkel.
Going above and beyond expectations
Wauseon Machine manufactured all the parts for the redesigned machine following the team's blueprints. The team then assembled their prototype in the JLK building so that they could demonstrate it for Hoffman, the company's CEO, and other company representatives during their final presentation in the spring.
"It was a great feeling to watch the unit light up and perform as we designed it to, after spending the entire year tearing it apart and putting it back together," said Corbin, now a systems engineer for Fluor-BWXT at the Portsmouth Gaseous Diffusion Plant.
The capstone team's final product achieved all the objectives laid out at the start of the project. The machine's footprint was reduced from 17.7 to 11.6 square feet. The manufacturing cost was significantly reduced, and upgrades, from a redesigned hood to contain lubricants to an enlarged interface screen, improved the machine's functionality.
"The students accomplished a lot more than we had anticipated and really did a great job on it," said Hoffman. He added that Wauseon Machine engineers made only a few modifications to the team's work, and when the company recently previewed the upgraded machine at an industry trade show, customers gave it rave reviews.
The capstone team members have all graduated from the T.J. Smull College of Engineering, but they've taken with them key learnings obtained through this project.
"I learned many important things within this capstone. The project helped hone my communication skills, technical abilities and presentational capabilities," said Corbin. "But more than this, it provided a glimpse of what engineering would look like outside the walls of the university. It created a controlled environment in which you could take risks and learn from your mistakes."
###