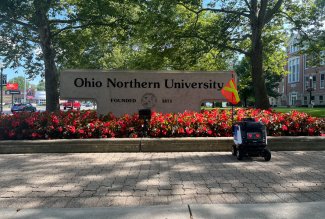 ADA, Ohio – They've been characterized as adorable, but they're also durable and reliable when it comes to state-of-the-art food service. Kiwibot, a robotic sidewalk delivery startup, announces its arrival at Ohio Northern University to offer an affordable on-campus food delivery service for students, beginning Tuesday, Sept. 6.
 
"I am very excited by this new state of the art opportunity that will further enhance student dining at Ohio Northern University," says Jason Broge, ONU's vice president for financial affairs. "Kiwibots will bring an innovative and fun delivery experience for our students."
 
Kiwibots were seen on campus during Move-In Day, making their introductions to excited students, and will make an appearance at the first football game of the season on Saturday, Sept. 3 in Dial-Roberson Stadium.
By using this new service, students will be able to enjoy their food delivery with zero carbon emissions, helping them reduce their carbon footprints and encouraging delivery services to be as sustainable as possible.
Kiwibot's proven track record is in part due to its ongoing relationship with Sodexo, a food services and facilities management company.
 
"This is a new opportunity to further enhance student dining while promoting Sodexo's standards for a quality meal experience," says Teresa Beachler, Sodexo general manager at Ohio Northern University.
 
Through Sodexo's new mobile application, Everyday, students can place an order with their chosen restaurant and a robot will pick up the food and deliver it to the selected drop-off location on campus.
 
Users receive a unique link to track the order, follow the robot's location in real-time, and finally, open the lid and enjoy their meal. The hours of operation are from 10 a.m. to 6 p.m.. There will be 15 robots operating at Ohio Northern University.
 
To ensure safe operations on campus, Kiwibot relies on the most advanced technology and a semi-autonomous driving system. The robots create a virtual visualization of the world in real-time, using high-tech sensors, reflective flags, night lights, and a range lidar. Human supervisors are on watch if additional assistance is needed and an on-site team will be ready for immediate support.
"Kiwibots will bring joy to everyone on campus: This service allows students, faculty, and staff to not only invest their time more productively but also to merge into robotics," says John Tarin, head of global operations at Kiwibot.
It is an exciting endeavor for Kiwibot to be part of the Ohio Northern University community and to help students get closer to the world of technology, robotics, and entrepreneurship. The on-site Kiwibot team will be available to participate in campus events, such as this weekend's football game.
Get ready for the innovative future of delivery by downloading the Everyday App from the App Store or the Play Store.