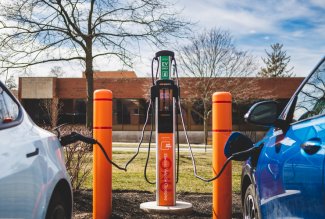 The first drive-in gas station — a social hub with a diversified retail model that offered amenities such as free air and water, tire installation and the nation's first commercial roadmaps — opened in Pittsburgh, Pennsylvania in 1913. Prior to that, America's earliest automobile owners bought canned gasoline at places such as hardware stores, soon-to-be-obsolete blacksmith shops and self-serve filling stations, the latter of which began to appear in 1905, according to Smithsonian Magazine. The advent of the gas-reliant internal combustion engine and the products and businesses that would arise because of it would contribute to a rapidly transformed American culture. Ever since, driving has served as a primary method for "going places," both physically and figuratively.
 
One hundred ten years later, the driving scene is undergoing a substantial overhaul, this time with the reduction or entire elimination of gasoline as a fuel necessity for certain models.
 
Enter electricity.
 
With companies ranging from Ford to Ferrari now catering to consumers' environmental sustainability desires by increasing all-electric and hybrid vehicle production, even places such as Ohio Northern University are now part of the transportation delivery system. This was evident one recent morning as drivers fueled up on campus. "Two are in use at the Dicke College of Business Administration. Those are the ones that are used the most," said Construction Project Coordinator Raymond Closson.
 
Closson was referring to two of ONU's eight electric vehicle (EV) charging stations. With a few taps on his phone screen, he can pull up, at any given time, a monitoring system that shows how many stations are in use and how much electricity has been consumed at them. Any driver who has chosen to trade the pump for the plug can swing by an ONU charging station, plug in and even walk away from their vehicle while it's charging. Along with two at the business building, there are additional station pairs at King-Horn Sports Center, Raabe College of Pharmacy and The Inn. Situated at prime parking spots, the silver stations are evident but unobtrusive.
 
It's a far cry from the vibrant social scene at the typical early 19th-century filling station, but many environmentalists are supporting the transformation. EVs emit no exhaust from a tailpipe and, according to the EPA, have a smaller carbon footprint than gasoline cars, "even when accounting for the electricity used for charging." The EPA also defends the larger batteries used in EVs and their manufacturing process, maintaining that over the vehicle's lifespan less greenhouse gases are emitted. Companies and consumers are responding in a big way, with many buyers submitting to months-long wait lists for certain models.
 
"With great U.S. EV sales comes great charging station responsibility, and figuring out how to offer public charging options to all of these early adopters is an ongoing concern," states an August 2022 Car and Driver article.
 
ONU's first two EV charging stations were installed on campus about five years ago. The project was funded by Jim Halderman, BSEd '68, a retired technology and industrial arts educator whose own sustainability endeavors have garnered attention over the years; while a student, he built Ada's first electric car. The University eventually added a few more charging stations from different manufacturers. In 2022 two stations were added to bring the total to eight, and some were replaced so that all are now the same strength and brand: 220-volt, Level 2 ChargePoints. Since the initial two stations were installed, additional funding from Halderman, other donors and the University have allowed this project to expand.
 
The EV charging stations are mostly used by faculty and staff, with a few visitors passing through. Jason Broge, vice president for financial affairs, foresees additional station upgrades as more people, including students, buy all-electric and hybrid vehicles. "I would say our next phase is to put in Level 3s, because that's just where things are going, when you look at what's coming on the market," he says. "You can sense it's coming but we're not there yet."
 
Right now, the eight stations are accommodating campus demand. "Typically, there are two, maybe three being used out of the eight at one time," says Closson. "As far as going from Level 2s that we have to Level 3s, our average charge time right now that someone is plugged in is 2.5 hours."
 
"We're charging commuter cars," Broge points out.
 
With campus not adjacent to U.S. 30 and I-75, not as many drivers leave those routes to come to ONU to charge. However, Ohio Northern is on the ChargePoint app, which indicates factors such as location, whether stations are currently in use and how much they charge.
 
ONU charges $1 per hour for the first four charging hours and $4 each additional hour. "We're just trying to cover the electrical transmission charge," he notes. The charging costs for customers are on par with other places that offer EV charging stations, including Apollo Career Center in Lima, which charges the same rates. Administrators will have more accurate figures this summer, after all eight stations have been in operation for one year.
 
"I'll be curious to see, every academic year now, how the utilization is," says Broge. "Most of these folks who have EVS are pretty savvy. They figure out where the cheapest electricity is, and the fact that we're getting traffic means that we're probably still cheaper than having them charge at home."
 
American Electric Power has a program that will give the University a break on electricity use for EV charging, but the University would need to bring a new electrical service line onto campus. Rather than serve as revenue generators, the stations simply provide a service for those in the campus community who choose to embrace a more sustainable future by switching to electric or hybrid vehicles.
 
From what Closson and Broge have noticed so far, use drastically decreases, as would be expected, when classes aren't in session.
 
Closson and Broge say that, thanks to the evolving EV and hybrid automobile market and technology improvements, they expect to eventually see more of these vehicles on the road and on ONU's campus. Larger trucks in particular benefit from the most powerful Level 3 supercharging stations, which the University expects to eventually consider installing.
 
Some EV Facts:
 
An analysis by IHS Markit projected that 25–30 percent of new car sales could be electric by 2030 and then 40–45 percent by 2035.
 
Reuters estimates that by 2050 more than half of the vehicles on U.S. roads could be EVs.
 
International Electric Agency: Electric car sales reached a record high in 2021, despite supply chain bottlenecks and the ongoing Covid-19 pandemic. Compared with 2020, sales nearly doubled to 6.6 million (a sales share of nearly 9%), bringing the total number of electric cars on the road to 16.5 million.
 
Some companies have set dates for when they'll produce only "electrified" cars. This Forbes story details which companies, from international luxury brands to American stalwarts, have pledged to go more green. For instance, Ford is investing $22 billion through 2025 to deliver battery EVs, and plans to be carbon neutral by 2050, but the company still sees a role for hybrids with gas engines. By 2030, the Cadillac lineup will be all-electric, as will all Bentleys. By 2030, Honda says 40 percent of its North American vehicle sales will be either battery electric or hydrogen, and by 2040 all of its gas cars will be phased out.
The Biden administration, through the EPA, has proposed an aggressive U.S. vehicle admissions reduction plan that, if implemented, could mean two out of every three new vehicles sold will be electric within a decade.
 
This story is part of a series on sustainability efforts and studies at Ohio Northern University.