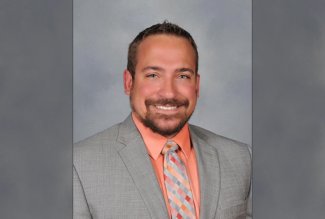 As a teacher, Joe Mileski, BS '12, BSME '20 wanted to change the world. As an engineer, he just might do it.
Mileski returned to campus recently to thank those who had a major influence on his education and career and to make a gift to the Engineering Dean's Innovation Fund. He's appreciative of ONU's leadership, faculty and a culture of supporting traditional and non-traditional students. He's been both.
A President's Scholarship recipient, Mileski first entered ONU as an engineering major in 2008. He switched his major to math education in his sophomore year; and thought back on reasons for the change.
"We had a big engineering project due and about eight of us were stuck on campus one weekend because we didn't have the software we needed at home," he recalled. "I thought, do I really want to do this for a few more years?"
Graduating in 2012, he began teaching at a parochial school in Toledo, Ohio. After five years, he became disillusioned with teaching.
"I wanted to change the world, but the world didn't want to change," he said. "I loved what I was doing but I felt like I was running myself ragged."
Because he had no particular ties to the Toledo area, he decided to finish his degree in engineering even if it meant re-locating. He talked to a few universities and didn't find much encouragement about returning for degree completion.
"When I came to Ada and walked into the admissions office, they let me know in five minutes that I was accepted and could talk with the College of Engineering. ONU very much gave me the opportunity and didn't bat an eye about me coming back for a new degree."
Admittedly, he wasn't happy at first being on the other side of the desk "with students that I could have taught." After getting accustomed to being a student again, he hit the ground running, becoming a President's Club student ambassador as well as a member of the College of Engineering's Dean's Team. Ambassadors represent the student body at events and work closely with the Office of Advancement. Joe remembers attending many alumni events and learning the importance of continuing to support ONU after graduation.
Inspiration and motivation 
Mileski's mentor and supporter throughout his undergrad endeavors was John Murphy, his grandfather, now in his 90s.
"I should refer to him as 'Doctor' John Murphy," Mileski added. "He earned his doctorate in aeronautical and astronomical engineering in 1970. He's an Air Force veteran, a mathematical genius and truly values higher education."
Dr. Murphy placed such high importance on a university education that he provided financial support to his seven grandchildren while they obtained their degrees. He researched the tuition costs of private and public universities in Ohio, then calibrated the amount that he thought Mileski would need to earn his undergraduate degree. If Mileski came in "under budget," he would receive the remainder as a gift 10 years after graduating. Murphy continued to provide support when Joe returned to ONU to complete his bachelor's degree in engineering.
With a grandfather holding a doctorate, parents who work in the health sciences and six cousins all earning degrees, many of them in the sciences, does Mileski feel that an aptitude for math and science could be genetic?
"As a former math teacher, I don't believe that you are born with an aptitude for science or math," he stated. "Everyone has the capacity for problem-solving."
He does admit that he was the typical budding engineer while growing up. As an eighth-grader, he made it to the regional science fair. His project involved wind tunnels and although he didn't understand the science behind it, he found it interesting.
"The only advice my grandfather had was to tell me to straighten out the air coming from a box fan that I had set up. Otherwise, he gave me no help on the project," Mileski laughed.
It all leads back to Northern
After completing his engineering degree in 2020, Mileski began work on a master's in mechanical engineering at Wright State University in Dayton, Ohio. He credits his advisors at ONU with helping him receive a graduate assistantship. He laughed that they "not so gently nudged me in that direction," and used recommendations and references to help strengthen his case.
"Again, it all leads back to Northern," he said. "I think that's why I needed to come back and thank everyone and make my gift."
Joe completed his master's degree in mechanical engineering in 2022 and is now employed in the private sector in the Dayton area. Following somewhat in his grandfather's footsteps, his position involves working with the Air Force.
Aerospace engineering is unique in that it's such a niche area that there are fewer positions open than in other engineering specialties. Mileski feels the rigorous ONU engineering curriculum gave him an advantage in graduate school and his job search. As a teacher, he felt he had a better grasp of the content with a degree in math, along with a focus in education.
"Yes, ONU definitely prepared me, compared to my friends who went to other schools," he said.
Today, even elementary schools have placed an emphasis on STEAM education to teach problem-solving and critical thinking skills through science, technology, math and the arts. There is a demand for qualified individuals in those fields, including engineering. Mileski feels that there is a need to replace many talented engineers who have now reached retirement age.
"We need people who know this field and we're running out of them," he added.
This is Mileski's first gift to ONU. Why now? His answer was honest. It's the first time that he actually didn't have to worry about where his living expenses are coming from. He's on an upward, maybe world-changing trajectory, and he credits his alma mater with much of his success.
"Of course, I'm incredibly biased," he confessed. "I spent seven years at ONU."