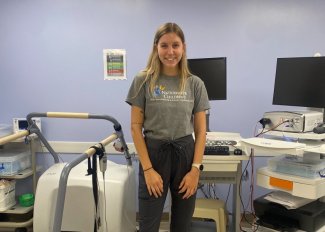 Katrina Dooley knew she wanted a career that allowed her to help people, particularly children, so when an internship opportunity at one of the nation's top children's hospitals presented itself, she was eager to get started.
A Springfield, Ohio native, Dooley is a senior studying exercise physiology and strength and conditioning. Her desire to work with children led to an internship in the Heart Center at Nationwide Children's Hospital in Columbus, Ohio.
She said the experience was everything she could have hoped for. It resulted in a part-time job offer during her senior year that will become a full-time position after graduation.
"Being in a clinical pediatric setting is exactly where I see myself for the rest of my career," Dooley said. "This internship helped me find my true passion."
Each day she worked alongside American College of Sports Medicine-certified exercise physiologists to analyze congenital heart patient's responses to exercise stress testing by connecting patients to an EKG and metabolic cart to track cardiovascular and metabolic response to maximal effort exercise. The staff analyzed heart rhythms and viewed oxygen uptake change during exercise, while receiving subjective feedback from the patient.
"My favorite part of my internship is working with unique and complex patients," Dooley said. "I love knowing the results of our testing will assist in receiving the care they need from their doctors. Especially when families are faced with uncertainty, providing high-quality care to our patients is something I take pride in."
Dooley credited her experiences and education at ONU for setting her up for success at one of the most prestigious children's hospitals in the country, and for enabling her to stand out against a pool of applicants from other colleges and universities.
"I was extremely proud and excited to represent ONU. The applicant pool I was in was massive and the interview process was tedious," she said. "Everything I had learned thus far in my exercise physiology classes prepared me for this internship. My previous hands-on experience in the lab room with Dr. (Scott) Swanson secured my confidence to approach this internship with an 'I can succeed here' mindset."
During her internship, Dooley said she was welcomed and made to feel part of the team. Her supervisor helped her make contacts with other professionals in her field, too.
Dooley's career advice for fellow students: "Hard work and taking initiative pays off. You will never regret trying your best."