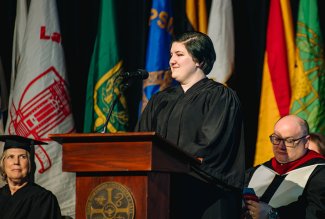 Chrysania Goldy is a promising young writer who draws creative inspiration from the world around her. 
In March, when her English professor invited her to write a poem for the Inauguration of Ohio Northern University's 12th president, Goldy strolled across a wintry campus and reflected upon community and her personal journey at ONU. 
Her ruminations resulted in a pitch-perfect poem, "Community Garden," that uses nature imagery to beautifully illustrate the strength and hope that one derives from a caring community that fosters dreams. 
The poem tells a story that is Goldy's own story, because if it wasn't for the supportive community she found at ONU, she would not be following her passion. 
Goldy began her academic career at ONU as a computer science major. She longed to be a writer, but didn't believe it was a viable path.
"I was a good programmer, so I figured I could pursue a career that paid well and then try to write in my free time," she says.
Although her ONU engineering professors were incredibly kind and supportive, Goldy struggled to muster interest in her computer science courses. Meanwhile, she eagerly awaited her creative writing class every day.
"I just really loved my creative writing course and I came to realize that writing wasn't something I could be content to only do on the side," she says. 
Still hesitant to change her career direction, Goldy had in-depth conversations with several ONU English professors. Each assured her that she had a gift for writing and that she could, in fact, carve out a successful career doing what she loved.
After her first year at ONU, Goldy switched her major to creative writing with a minor in philosophy, and she hasn't regretted it for one moment.
"Every single one (of my professors) was encouraging and continues to be that way today," she says. "Even when I fail, they remind me to keep trying."
Goldy now spends her time in a creative space, honing her considerable talent for writing. She also works as a tutor in the Writing Center and as a student assistant for the School for the Humanities and Global Cultures. She recently created a chapbook of her poems called "Snow Globe."
"My poetry stems from my connection to nature," she says. "The way I write encapsulates the idea of looking at an image in time; an image is imbued with my thoughts and feelings."
The beauty of ONU's natural spaces inspires her. Her favorite location on campus is the top of the hill behind the ONU Observatory, where she often goes at night to stargaze and contemplate. 
She was honored to be asked by her mentor, Jennifer Moore, Ph.D., associate professor of creative writing and director of the School for Humanities and Global Cultures, to write a poem for the Inauguration of ONU President Melissa J. Baumann, Ph.D., on the theme "Stronger Together."
Goldy mulled over the theme for a time.
"I joke with Dr. Moore that I am percolating," she says.
Then she meandered across a chilly campus to observe and reflect. When she spotted the community gardens next to Affinity Commons, inspiration struck.
"I like the idea of people growing things together and growing together," she says.
Once the first line of the poem came to her, the rest flowed easily. Although she struggled with a few lines, Goldy says Moore provided excellent editorial guidance. 
"We sat down together and went through my concerns line by line," she says. "I wanted the poem to truly be reflective of a happy and hopeful look toward a bright future."
Goldy erupted with excitement and pride when she received the news that President Baumann wanted her to read her poem at the investiture ceremony on April 12, 2023.
"I let out a scream and immediately phoned my mom!" she says. "I couldn't wait to read my poem aloud and share it with an audience."
She added: "I never envisioned being part of something so big, there are so many wonderful voices in the English department and I have so many amazing peers who could have been chosen. And yet, they are all so happy for me for this opportunity. I channeled some of that community and support in my poem."
Like the last line of her poem, Goldy's future is like a garden ready to bloom, and she couldn't be more grateful.
"I love that my life has taken me in a direction where I am encountering such incredible, unexpected opportunities every day," she says.