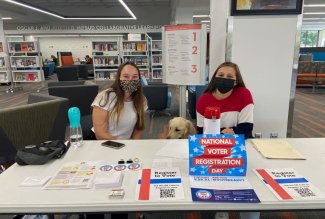 ICAPP Fellows Hailey Trimpy and Kennedy Aikey during a September 2021 voter registration drive at ONU
Ohio Northern University's Institute for Civics and Public Policy will host a forum for candidates running for Ada Village Council on Monday, Oct. 18 at 6:30 p.m. in the Dicke College of Business Forum.
All candidates who are on the Nov. 2 ballot have committed to participating in the forum. They include incumbents Jeff Oestreich, Noah Ristau and Robert C. Simmons, and challengers Sean Beck and Jason Campbell. Voters will elect four to serve.
As part of its mission, ICAPP encourages and models civic engagement and public discourse on pressing policy issues. Student members of ICAPP have spearheaded this event.  ICAPP's founding director and professor of political science, Robert Alexander, Ph.D. will serve as the moderator.  Audience members will be encouraged to submit written questions which may also be addressed during the forum.  
In keeping with ONU pandemic safety policy, all forum attendees will be required to wear face coverings.