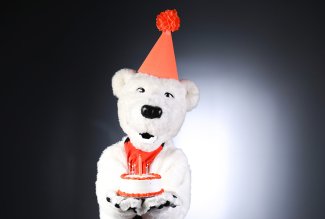 Let's be honest, polar bears are way cooler than goats. 
Goats, after all, bleat. And their beards, clickety clackety hooves, and the fact that their milk can be turned into moisturizing soaps and lotions, doesn't exactly instill fear in the heart of an opponent.
Ohio Northern University administrators in 1923 must have reached a similar conclusion about goats, because that year they gave the goat the boot. On March 16, 1923, they invited an assembled gathering of students to come up with a new mascot for the University.
One enterprising student stood up and declared, "I suggest the polar bear," pointing to the bear's large size, admirable strength and striking coat. Loud applause met his suggestion, and a unanimous vote cemented it. 
And so it was that we became the ONU Polar Bears exactly 100 years ago this March.
It's not as illustrious a story as Bowdoin University in Maine. The only other polar bears in NCAA Division III, Bowdoin selected this noble mammal in honor of two alumni who actually discovered the North Pole.
Yet in all fairness, ONU's campus certainly feels like the North Pole on many a winter day, just ask anyone walking across the windswept Tundra in January or February. And the prominent traits of the polar bear —strong and determined—plainly match the profile of the typical ONU student-athlete. So clearly, the "roar" fits.
And this interesting tidbit: ONU likely inspired at least one other school to adopt the polar bear mascot. Woodward High School in Toledo also became polars bears thanks to the influence of the school's principal and ONU alumnus,Charles LaRue 'BS 1909.
Throughout the past 100 years, the ONU Polar Bear has taken on different appearances, on uniforms and apparel, in drawings and finally, in costume. 
The costumes, in particular, ranged from comical to fearsome. The 1959 mascot looked a bit hapless. The 1967 mascot likely caused small children to have nightmares. The same is true of the 1970s-era mascot, which was patently striving to resemble an actual polar bear. The 1980 mascot looked more like a shaggy dog than a bear, while a later 80s version, for reasons not apparent, sported Groucho Marx eyebrows.
In 1998, during the 75th birthday of ONU's mascot, the Polar Bear mascot received an official name for the first time: Klondike. The name has stuck ever since.
And in 2006, the mascot received an updated appearance—a new graphic and costume—that are both still used today. This modern version of the Polar Bear was described by the design committee at the time as "regal, proud, modern, intimidating yet not frightening."
So, during this momentous 100th birthday occasion, let's salute our 1923 ONU forebears, for they had the wisdom and foresight to banish the boring barnyard goat and make us, always and forever, mighty Polar Bears. 
Happy 100th birthday Klondike! #polarbearproud #polarbearup