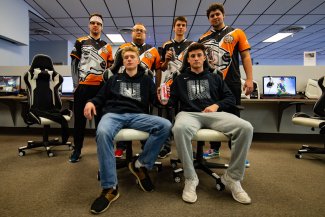 ONU esports carries the banner for ONU Athletics amid shutdown
The abrupt halt to collegiate athletics due to the COVID-19 pandemic has left student-athletes, coaches and fans adrift this spring. Sports have all but ceased since March 11, when professional basketball player Rudy Golbert of the NBA's Utah Jazz tested positive for COVID-19 and the league abruptly suspended their season. All of the other professional sports leagues followed suit, along with the NCAA. Esports, however, has always held a unique position in the realm of college sports in that they don't usually compete in front of live fans and rarely, if ever, come into contact with their opponents. In fact, esports worldwide has not only continued during the sports hiatus, it has thrived with a surge of fans tuning in for the first time. 
The ONU esports team is competing in the National Association of Collegiate Esports (NACE), the only association of varsity esports programs at colleges and universities across the U.S., while ONU's regional conference, the Great Lakes Esports Conference (GLEC) is suspended. Since the onset of the pandemic, ONU's 22-person team, which is comprised of two sub-teams that compete in "League of Legends" and "Overwatch," has competed in several online tournaments, including a charity tournament to raise money for food services in Chicago.
"The internet is our generation's domain," says ONU esports coach Troy Chiefari. "This transition wasn't really a hard transition for us."
In fact, the transition seems to have been a catalyst for the team's competitive chemistry. The team, which has virtually dominated with a near-perfect record in its inaugural season, has turned up the heat, recently defeating larger, more established teams like the Ohio State University.
"The way I have stayed connected with my teammates is through winning," says senior mechanical engineering major Matt White. "It is the goal that brought us together in the first place. The energy that our team has right now is insane. It just feels really good to be part of a team that's been as successful as we have been in our first year. We are all excited to play with each other right now, and it's a really good feeling to be a part of."
But aside from the competition aspect, the continuation of esports has also been important for its members who are all trying to maintain balance amongst the challenges of remote learning and the unfolding pandemic situation.
"Esports has been a lifesaver in this time," says computer science major Wyatt Guethlein, who is a student assistant for the esports team. "From my perspective, I do not play, but rather try and organize everything behind the scenes so they can play. Keeping up with the busy schedule of esports has actually benefitted immensely with school work, making me stay in the same schedule as I had before we left campus."
The current state of esports hearkens back to earlier days of the sport for Chiefari. Today's online-only format closely resembles what esports used to be – a solely virtual experience. Today, esports at its highest level is truly a spectator sport. Cities are investing in brand new arenas to hold live competitions in front of thousands of fans. At ONU, esports is normally a very "in-person" pursuit. The new, state-of-the-art esports facility, which comprises multiple LAN rooms dedicated to practice and competition, is always bustling with activity – daily three-hour practices, mingling in the break room and the spark of competitive spirit.
"Playing only online brought us back to how things were before esports was brought into ONU, Chiefari says. "It really made my players cherish and appreciate what they have at the school. A few of them got emotional when we shut the rooms down early."
Looking ahead, the esports team eagerly awaits their chance to return to campus and pick up where they left off. Until then, they will continue competing — and winning — for all of Polar Bear Nation who can't.
Click here to learn more about ONU esports.