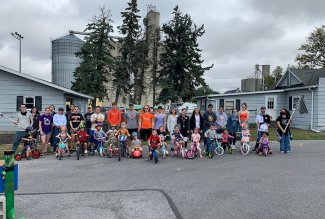 Fifteen years later, ONU sweethearts experience an ONU tradition from the other side.
Each fall, the preschoolers at the Ohio Northern University Child Development Center get to bring their bikes, trikes, scooters or big wheels to school for one very special day. The center's annual trike-a-thon is part obstacle course, part race-track and all fun for the 3- to 5-year-olds who take part.
But it isn't just fun for the little kids. The ONU Honors Program has been involved with the trike-a-thon since its beginning 15years ago. Helping with the event is part of the orientation process for all first-year honors students. "The trike-a-thon gives new honors students a chance to work together on something that connects them directly to both the Ada community and larger social needs," says Honors Program Director Forrest Clingerman. "One of the aims of the honors program is to create a community of scholars who share a commitment to critical thinking, creativity and civic responsibility."
Being part of the Honors Program has had a lasting impact on Jenny Gargac, BA '10, and Josh Gargac, BSME '10. They were freshmen in the program when then-director Pat Croskery first introduced the idea of trike-a-thon, and they even helped build the course for the inaugural event.
"The Honors Program was a wonderful experience. Events like the trike-a-thon help foster program values, including creativity, empathy, service to others, and being a little silly!" says Jenny.
Today, 15 years later, those values remain prominent in the Gargac household. Jenny and Josh married in 2010 and recently returned to Ada after Josh accepted a position as an associate professor of mechanical engineering this fall. They have four children, one of whom —3-year-old Benedict— is a preschooler at the Child Development Center and got to take part in this year's trike-a-thon.
"When we enrolled Benedict in preschool at the center, Josh and I both wondered (almost jokingly) if the trike-a-thon was still a thing. Needless to say, seeing our son participate in it 15 years after we did was definitely a full-circle moment," says Jenny. "It was fun to see him try something new, moving from tentative uncertainty to full-on joy as he rolled through the obstacles and interacted with the Honors Program students. The students did a great job building a creative course and keeping all the children safe and happy."
While the trike-a-thon is undoubtedly fun, it's also educational. Each year, the Honors Program and the center team up for a theme. This year's theme was "Learn to RIDE. Learn to GIVE." It asked the children to think of ways they can help others, and to understand the importance of philanthropy. The trike-a-thon has always had a fundraising component to it, but this year it was tied to the theme, which helped generate a hefty $1,840 for St. Jude's Children's Research Hospital, the most money in the event's history.
Also of note this year is that the 2021 trike-a-thon was likely the last one of its kind. Construction on a new 4,000-square-foot Child Development Center facility is expected to begin this fall directly across from the existing 1,600-square-foot center at 209 Union St. A fall semester 2022 opening is tentatively planned, which would put the trike-a-thon on schedule, albeit with potentially a lot more trikes.
The center currently serves 20 children from ages 3 to 5. The new center will be licensed to serve three times as many, while still living up to the quality reputation it has built over the decades. The center intends to maintain its five-star Step Up to Quality rating issued by the Ohio Department of Education and Ohio Department of Job and Family Services. The five-star rating, a rigorous evaluation, is an important recognition that illustrates the center's commitment to meeting quality programming standards and exceeding licensing health and safety regulations.
"Benedict loves attending preschool at the Child Development Center, and it's very convenient for our family," says Jenny. "We are very excited for him to get to experience the new facility next year, and for our youngest daughter to attend in the years to come."