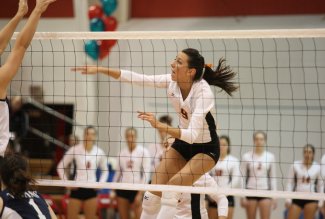 The Ohio Northern University Athletic Hall of Fame will induct five members this year.
The inductees in the fall 2021 class are Tina (Mangola) Martinez of North Port, Florida, a 2010 graduate who majored in education and played softball; Liz (Schnelle) Watson of Columbus, Ohio, a 2010 graduate who majored in accounting and finance and competed in volleyball; Matt Ellis of Lowell, Massachusetts, a 2003 graduate who majored in mechanical engineering and played soccer; Wes Hostetler of Sugarcreek, Ohio, a 2006 graduate who majored in life science education and competed in football; and Kate Witte of New Albany, Ohio, a 1982 graduate of the University of Northern Iowa who majored in health and physical education and coached ONU volleyball for 29 seasons.
The invitation-only induction ceremony and banquet will be held Friday, Oct. 1 at 6 p.m. in King Horn Sports Center.
Tina (Mangola) Martinez, BA '10 is the only person in ONU history to participate in the Division III Softball Championship both as a coach and player. She was a two-time All-American and three-time First Team All-OAC honoree during her Polar Bear playing days. As a freshman in 2007, Martinez was the triple crown winner in the OAC, leading the league in home runs (12), RBI (49) and batting average (.489). She currently ranks third all-time at ONU with 38 career home runs, RBI (49) and batting average (.489). She currently ranks third all-time at ONU with 38 career home runs, is third with 169 RBI, is sixth with a .414 career batting average and is fifth with 217 base hits from 2007-10. Upon graduating, Martinez worked as the assistant softball coach at Washington University before returning to ONU to take the same position for the 2012 season, when the Polar Bears made their trip to the College World Series. She was the head softball coach at Transylvania University in 2014 before becoming a middle school teacher in Florida. She returned to ONU as assistant softball coach in 2016 and helped guide the Polar Bears to an OAC championship in 2018. Martinez has since returned to Florida where she is currently a high school teacher and softball coach in North Port. She is married to Brandon Martinez and has three children.
Liz (Schnelle) Watson, BSBA '10 was a three-time All-American middle hitter for the Polar Bear volleyball team. More than 10 years removed from her playing days from 2006 to 2009, she remains ONU's all-time career kills leader with 2,222 and hitting percentage leader (.367) and holds the record for kills in a season with 592 in 2008. She also ranks seventh at ONU with 351 career blocks and is eighth with 86 block solos. Watson was named First Team All-America in both her junior and senior seasons and was a Third Team All-American as a sophomore. She was a four-time All-OAC honoree and was named the OAC Player of the Year twice. Watson was named the Division III National Player of the Week five times in her career. Those five honors are the second-most in NCAA history across all levels. She was a 2010 Clyde Lamb Award winner, and her No. 9 jersey was retired in 2019. Watson also earned First Team Academic All-America honors in both her junior and senior seasons and was a three-time Academic All-OAC honoree.
Matt Ellis, BSME '03 earned numerous accolades during his playing days with the Polar Bear soccer team from 1998 to 2001 and currently ranks 10th all-time in career goals (33), fifth in assists (30) and seventh in total points (96). He was named Ohio Athletic Conference Offensive Player of the Year and a Third Team All-American in 2000 and OAC Midfielder of the Year in 2001. Ellis earned All-OAC honors four times in his career, including two on the First Team, and was selected as ONU's Clyde Lamb Award winner in 2002. He was also a standout in the classroom, earning First Team Academic All-Ohio three times and Academic All-OAC recognition twice. He was named a Third Team Academic All-American in 2000 and was a member of the Academic All-America First Team in 2001 as the Academic All-American of the Year. After graduation, Ellis went on to earn a master's degree in engineering at Purdue University in 2005. For the past 16 years, he has worked in the computer-aided engineering field as an engineering and product manager for automotive applications. A native of Medina, Ohio, and graduate of Medina High School, Ellis currently lives in Barrington, Rhode Island, with his 8-year-old son. He enjoys spending time with friends and family, reading and staying active with soccer, cycling, swimming and yoga.
Wes Hostetler, BS 06 had a decorated career as a returner and defensive back for the ONU football team from 2002 to 2005. He was a First Team All-American and Second Team Academic All-American in 2005 and was the MVP of the 2005 Aztec Bowl, leading Team USA to a 53-15 victory over Mexico in Toluca, Mexico. He set Aztec Bowl records with three touchdowns, 18 points scored and 229 all-purpose yards. Hostetler returned a punt, a kickoff and an interception for touchdowns in the contest. He then went on to be the first ONU player to participate in the Hula Bowl in Honolulu, Hawaii, and was televised nationally on ESPN.
He currently ranks third on ONU's all-time career lists with 51 punt returns for 645 yards and two touchdowns along with 13 interceptions and holds single-game school records for longest punt return (83 yards) and most punt return yards (173) and punt return touchdowns (2), which were all set at Westminster in 2005. ONU's Clyde Lamb Award winner in 2006, Hostetler earned First Team All-OAC and First Team Academic All-OAC honors in 2004 and 2005. After graduating from ONU, Hostetler played for the Rochester Raiders of the Continental Indoor Football League and was a member of the championship-winning team in 2007. He has served as a varsity football assistant coach at Indian Valley, Strasburg and Garaway high schools and is now an engineering project manager at Allied Machine and Engineering after earning his bachelor's degree in mechanical engineering technology from Kent State University in 2010. He currently lives in Sugarcreek, Ohio, with his wife, Chastity, a 2005 graduate of ONU. He enjoys personal training, playing basketball, golfing and spending time with his three children.
Kate Witte retired on Dec. 31, 2019, after her 29th season as head coach of the ONU volleyball program. During her 29 years at ONU from 1991 to 2019, she guided the Polar Bears to a 742-241 record (.755 winning percentage), 19 Ohio Athletic Conference regular season titles, 15 OAC Tournament Championships, 23 NCAA Division III Tournament bids, 12 NCAA Division III Tournament Sweet 16 appearances, four Elite 8 appearances and one Final Four appearance. Witte was named OAC Coach of the Year in 1991, '94, '96, '97, '02, '08 and '19 and the AVCA Regional Coach of the Year in '94, '96, '97, 2003, 2009 and 2016. She also earned All-Great Lakes Region Coach of the Year in 2016 for leading the Polar Bears to as high as No. 22 in the American Volleyball Coaches Association coaches poll. In addition to coaching, she also served as ONU's Senior Woman Administrator from 2000-2016, is an NCAA Great Lakes Region representative, an assistant professor in the ONU Department of Human Performance and Sport Sciences and is one of the department's most respected and knowledgeable educators. She is also the director for ONU's annual summer volleyball camps, serves as the chair of the Great Lakes Region, is on the NCAA regional ranking, and is on the All-Region and All-America selection committees. Witte came to ONU from Iowa State University, where she had been a temporary instructor of health studies in the department of physical education and leisure studies and the coach for the men's volleyball club team for two years. She graduated from the University of Northern Iowa in 1982 with a degree in health and physical education. While there, she was a four-year standout and was named to the Midwest Region AIAW All-America team her senior year. From 1982-87, Witte taught health and physical education at the elementary and high school levels in Iowa and was the head varsity volleyball coach at St. Albert High School. In 1989, she obtained her master's degree from Indiana University in school health education. While at Indiana, she served as an associate instructor and graduate assistant to the women's volleyball program. Witte is currently retired and living in New Albany, Ohio.