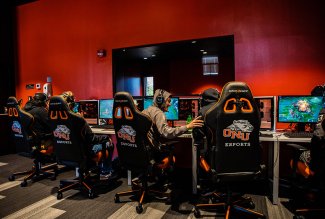 How the "next big thing" became even bigger—and better—at ONU
In the fall of 2019, Ohio Northern University introduced esports as the newest addition to the athletic department. At the time it was the newest, fastest-growing trend to hit the collegiate athletics scene, and now, more than three years later, it still is. In fact, it's only getting bigger.
At first glance, the numbers alone tell the story of ONU Esports' growth: 10 games, 80 varsity and junior varsity players, a gaming club with nearly 300 members, and approximately 40 student workers helping everything run smoothly. All of these figures are massive increases in just three years' time. ONU Esports Director Troy Chiefari was hired in 2018 as the esports head coach and tasked with recruiting three new students each year. Today he oversees one of the largest extracurricular entities on campus with 60 recruits this fall alone.
"We grew a lot in year two," says Chiefari. "Fortunately, we had the capacity to grow in terms of our facilities, but we've had to temper that trajectory in year three just because it is possible to grow too big, too quickly. We haven't done that, but we very easily could. The demand is there for sure."
ONU Esports' growth stems from adding games. In its inaugural year, ONU competed in just the two most popular games of that year—League of Legends and Overwatch. Chiefari ended up with a varsity and a junior varsity roster for each game, for a total of 22 players, which was his goal for that first year. Both teams performed well right out of the gate, finishing first in the Great Lakes Esports Conference and with notable wins over Ohio State University, the University of Akron and Kent State University.
With a season under his belt, Chiefari set his sights on recruiting for the following season. As a former professional player and coach, he understood what it would take to get students to come play at ONU. Sure, it helped that the University had invested into a renovation of Taft Memorial Hall that turned it into a state-of-the-art esports facility, but the thing about esports athletes is that their "sport" isn't video games; it's their video game. To grow the program, ONU would need to grow the number of games it offered.
Today, ONU Esports competes in League of Legends, Overwatch, Apex Legends, Fortnite, Hearthstone, Teamfight Tactics, Valorant, Rocket League, Counterstrike GO, and Rainbow Six Siege—fielding a first- and second-string team in each for a total of about 80 players. (Not all games are five players.) Chiefari limits each player to only one game, since he feels that taking up another game requires too much time for a full-time college student. When he talks about the demand for games, consider this: He could probably recruit another 60 students immediately if ONU Esports expanded their game offerings to include sports titles such as Madden and NBA 2K, the incredibly popular first-person shooter Call of Duty, and Nintendo's fighting phenomenon Super Smash Brothers Ultimate.
"I get between 30 and 40 students trying out for the games we offer each summer. The top 10 make first or second string and the remaining players are third string, which we house in our Gaming Club student organization," says Chiefari. "We are fortunate that we have so many players that want to come here, but there is a limit to what we can support. Overall, that's a nice problem to have."
"Support" is an important word in ONU Esports. As much as the program sets its sights on performing well, winning isn't the sole purpose. Chiefari knows what it takes to win in the highly competitive realm of esports, and too often it comes at too high of a cost for a sustainable program and for the student athletes who are here for an education. Instead, he has grown ONU Esports into a program that stresses empathy, inclusion and camaraderie in a way that adds to each players' overall college experience instead of detracting from it.
"There are some schools that spend all their resources to recruit the five best players for one game and that's all they do. They are good and they win a lot, but they don't have much of a program to speak of," he says. "The biggest value for a college esports program is having an overall good program that develops good people."
As someone who's been around esports for the past two decades, Chiefari understands the challenges and pitfalls players can face in a highly competitive and often anonymous landscape where insults and personal attacks are hurled as mercilessly as salvos of laser blasts. For many young players, video games are an immersive experience equal to or even more significant than their "real life" communities. And far too often, these environments are void of authority figures with the influence to curb the worst behavior and encourage good. If winning takes a back seat to anything at ONU, it's putting energy into building a culture of respect and positivity. That's why Chiefari has introduced what he calls amnesty hours for each of his teams. These free-flowing sessions allow players to reconcile issues and find common ground.
"Some players go very, very hard and grind their game, and they'll be very good and they'll have expectations for one another. And that person might be on a team with someone that just doesn't," says Chiefari. "That person wants to get good grades, enjoy college and earn their degree, and they are just doing this for fun. So, we spend an hour every other week getting everyone to understand each other, have empathy for one another and find a middle ground."
In addition to attending to mental health, the program is providing career building opportunities for students in surprising ways. Chiefari has relied heavily on work-study students to help with the rigors of running the program. Not only have students assumed key roles in updating, maintaining and fixing the computers and other esports equipment, they have expanded the University's capacity to stream matches in-house and provide commentary to viewers. Chiefari helped another student find a job within the program that will help him with his future career in nursing. "I placed him in charge of scheduling, which is a huge job. We've got two training rooms and 11 teams and only so many hours in the day. He was telling me how he plans to be head nurse at some point in his career and that role needs to know how to schedule nurses for all the shifts in a hospital 24-7. So, he's getting practical experience here with us that will help him achieve his career goals."
ONU reached another milestone this month when it hosted the Great Lakes Esports Conference (GLEC) playoffs for League of Legends, Overwatch and Super Smash Brothers Ultimate. It was the first time the University hosted an in-person esports event and invited the campus community to come out to McIntosh Center to watch streams of the events in true spectator-sport fashion. The turnout and overall energy showed that esports is not only a viable sport for ONU Athletics to participate in, but that it has become ingrained in the campus culture. Oh, and ONU Esports are also quite good. The League of Legends and Rainbow Six Siege teams are both ranked in the top 16 in the nation right now, and the Valorant team has players with professional prospects, while an ONU Fortnite player is ranked in the top 250 of all players in the nation. But that just goes to show that success can come from building a solid foundation, while seeking glory rarely translates the other way.