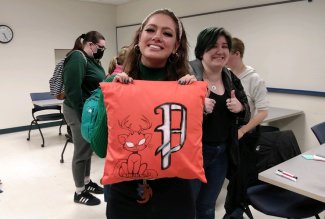 When life gives you lemons, make lemonade; and when it gives you uncomfortable couches, make pillows. 
ONU English students turned a negative into a positive this past year with a little help from the Makerspace in the T.J. Smull College of Engineering. In collaboration with Dr. Larry Funke, assistant professor of mechanical engineering, and Dr. Jennifer Pullen, assistant professor of creative writing/fiction, the students produced decorative pillows that transformed their digs in Dukes Building from sleek executive to boho comfort. 
When English students arrived on campus last fall, they were initially thrilled to find modern-looking furniture lining the hallways of Dukes. But the new couches soon proved less-than-comfy for lounging. English students spend a good amount of time hanging out together and collaborating on projects sometimes late into the night, so the furniture in Dukes is important to them, explained Pullen. "They were very vexed that the new couches were pointy and square."
As the advisor for Polaris, ONU's undergraduate literary magazine, Pullen decided that making pillows would be a perfect team-building activity for the Polaris staff. Produced annually by the ONU English department, Polaris showcases the work of talented students from across the country in the areas of poetry, fiction, nonfiction and visual art. The journal, which has a national and international reach, gives ONU students invaluable experience in the world of publishing.
Pullen reached out to ONU's costume shop for help with fabric and sewing. She also envisioned stencils with the
Polaris logo that students could use with fabric paint to produce branded pillows. To produce the stencils, she and her students asked Funke and Chris Winters, who oversees the College of Engineering's Makerspace, for help.
Equipped with 3-D printers and laser engravers/cutters along with many other high-tech machines, the Makerspace is, as the name suggests, a "place to make things" said Funke. "It's not dedicated to any particular class. Instead, it is there for any student to use to assist in projects they are working on whether it be for class or a personal project."
While cutting a logo stencil sounds basic, most engineers know that even basic projects are rarely straightforward. The highly-elaborate, 1950s-era "P" that was the Polaris logo, along with conflicting computer systems, created some bumps in the road. "We had people from completely different fields trying to work together on a project," explained Funke. "We were almost speaking different languages at times talking about programs and the file formats the magazine uses versus what our equipment needed."
According to Pullen, her students "learned so much" in the process, including the importance of teamwork, communication and problem solving. As Funke noted: "Probably not surprisingly, communication solves communication problems. I think students learned that if you have a project that you are passionate about, you need to communicate clearly and push to get it done."
By meeting with Funke and working through issues, the English students ended up with a set of Polaris logo stencils that were cut out of plexiglass left over from the pandemic. The students then spent a fun and relaxing evening using the stencils to produce a pile of pillows to make the couches in Dukes "nap-friendly" again. 
According to Pullen, the logo stencils will also have multiple uses in the future. "I think this project showed that the arts and sciences can collaborate together on projects. It was our own little STEAM moment," she says.
Funke is glad that the broader campus community is discovering that the Makerspace tools aren't just for engineers, but can be used for anything from art projects to gifts. "The sky is the limit," he says. "These spaces and tools can be used by anyone and should be viewed as ways to unleash creativity more than anything else."