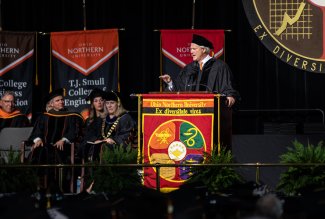 Know thyself. Find good mentors. Face your fears.
 
Ohio Northern University's most recent honorary doctorate degree recipients, who also served as the featured speakers for the University's three commencement ceremonies held May 20 and 21, had plenty of advice for the latest degree earners. The rest of us just might find value in their shared wisdom, too.
 
Below are highlights from each ceremony speech.
 
Pettit College of Law Ceremony
The Honorable Stephanie Pearce Burke, JD '94
 
A judge for Kentucky's 30th District Court, 14th Division, Burke noted "this year's (law) class has persevered through 3 years of unprecedented disruption. No doubt this period of time you've spent in law school will be viewed as a very pivotal era in our nation's history."
 
Burke emphasized the necessity of "tolerance and compromise," which she said are "woven into the fabric" of ONU. To focus her speech, she used the law college's wall with the words "know thyself, control thyself, give of thyself."
Socrates maintained knowing thyself is the first step toward true wisdom, Burke explained. "I am the sum of my experiences as you will be of yours. Your professional lives will be long and winding journeys" she said.
Find what inspires you. Seek out inspiration and follow it.
Learn from others. Mentors play a very important role in your life. Many will try to lead you in the wrong direction. Keep your eyes open for good mentors to help guide you along the way.
"Self-discipline and determination prevail over raw talent and status," Burke said. "Outwork your opponent and you will greatly improve your odds of success despite all the other factors. You can't control anyone but yourself."
"Lots of things in life are not fair. Life will knock you down many times. One of the hardest things you will ever have to do is face your fear. Mine is pubic speaking," Burke admitted. "This is the ultimate exercise in control. Here I am up here speaking to you."
Take ownership. Be engaged. Grow. Continue to embrace challenges. Persevere. "These things will take on new meaning as you face this new chapter in your life," she said.
The adage, "If you love what you do, you'll never work a day in your life" is not true, said Burke. "When you find what you love, you will work harder than you ever have before."
"Your generation can do better than mine" with societal tolerance and compromise, she said. "People have been dismembered. This happens to them based on the way they look, the way they think, the way they pray and whether they wear pants or a skirt. It can happen for almost any reason. We have become so divided we are injuring ourselves. Just because we are not homogenous does not mean we can't coexist peacefully. You all have so much to give."
 
Raabe College of Pharmacy Ceremony
Todd Nesbit, BSPh '84:
 
Nesbit, the chief pharmacy officer for Johns Hopkins Hospital, has been a preceptor for numerous pharmacy students who have come through the 1,100-bed academic medical center. He said he often asks what they've experienced and learned. During ONU's pharmacy commencement ceremony, he reflected on his own learning, too.
"Make time for self-reflection," which is a conscious act, Nesbit said. "Pursue goals. Reflect on your needs and interests. Grow and change. Self-reflection will lead to finding your purpose."
Commit to lifelong learning. "We can never become complacent with the knowledge we have today," he pointed out. Maintaining your sense of intellectual curiosity is essential.
Cultivate friendships and build meaningful relationships. "Friends are the family you get to choose," Nesbit said. Relationships, he reminded the audience, requires energy and effort to be sustainable.
Find mentors who offer wise, open counsel. Those who are giving of their time and willing to share what they've learned can be invaluable from a professional perspective.
"Make family a priority," Nesbit recommended. "I've been blessed with the love and support of my own family. Having somewhere to go is home," he said.
Listen and learn from the voices of others. "Seek first to understand before being understood," he said. "Listen first in order to meet the healthcare needs of patients." Discovering what's most important to them will provide the right decision-making guidance. "Keep your patients in the center."
Be persistent to "overcome inevitable and often unforeseen obstacles." Progress takes time, he said, but is necessary to build resilience and confidence to access personal and professional goals. "Energy and persistence can conquer all things."
Remain humble. "I came to realize that effective leaders are humble leaders. They realize they don't have all the answers," he acknowledged.
"Expand your worldview through travel. It is easy to see only others who look like us, who think like us… but we are one humanity living in an increasingly connected world," Nesbit said.
Make your own health a priority. "We cannot care for others if we do not first care for ourselves," he recommended.
 
Undergraduate Ceremony
Mike Prescot, BSBA '84
 
Prescot, the regional group manager of U.S. Bank's Ohio, Kentucky, North Carolina, Florida, New York and Saint Louis markets, said there are three keys to professional success: what you know, who you know and who you are.
Change is inevitable but doesn't define you. "It's your reaction to change that will define you over the course of your life," Prescot said.
"Your knowledge journey is just beginning," he told graduates. What we read and learn will provide a foundation for the future.
"Have hobbies and interests outside of work," he urged. Have deep conversations about everything from ice cream to Ted Lasso. "Work really hard to develop emotional acuity."
"Your network will be invaluable. Be purposeful as you develop contacts internally and externally." Professional opportunities often result in personal relationships, and personal relationships can provide professional satisfaction, he maintained. "You are who you associate with in life."
"I strongly recommend having a values statement. Write it down and update it often. As you navigate through life, your greatest strength is to know who you are." Prescot said.
Define and seek greatness as only you can define it.
Enjoy life's journey. Take chances. Be grateful every day.
The world is run by the discontents. Join them to effect change.
And finally, "call home often," he said.