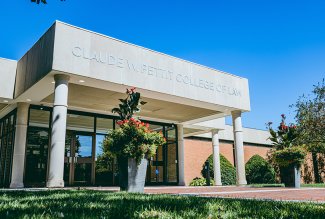 Claire Vaubel, JD '71, on behalf of her late husband, George Vaubel, JD '54, established the George and Claire Vaubel Endowed College of Law Scholarship as part of the Forward Together campaign.
George Vaubel graduated from the Ohio Northern University College of Law in 1954. He later completed a master of laws degree at the University of Michigan Law School. From 1955-1958, he served in the U.S. Army's Judge Advocate General's Corps. He joined the faculty at the ONU College of Law in 1958 where he taught contracts, constitutional law and municipal corporations law for 41 years, retiring in May 1999. Professor Vaubel was an acknowledged expert in Ohio municipal law and published a well-regarded treatise, Municipal Home Rule in Ohio. 
Claire Vaubel, a 1971 graduate of ONU's law school, married George at the end of her first year of law school. After engaging in the private practice of law, she returned to ONU, where she worked in the law library, raised a family and was active in community organizations and her church. Since George's death in 2011, Claire has maintained a close connection with the law school, its faculty, alumni and students and established this scholarship fund to honor her husband.
The George and Claire Vaubel Endowed College of Law Scholarship honors both Claire and George's passion for service and helping others.