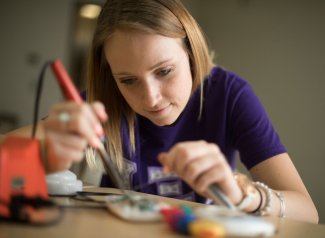 ENGINEERING STUDENTS OFFER TIME AND TALENTS TO HELP SPECIAL NEEDS CHILDREN
Children with special needs often face many frustrating challenges, but playing shouldn't be one of them. That's why one group of ONU engineering students is working to make it easy to play.
The T.J. Smull College of Engineering encourages its students to pursue community service opportunities, and Engineering Projects in Community Service (EPICS) is one manifestation of this. Through EPICS, students take on real projects to help their local communities. For their spring EPICS project, engineering students Nick Hess, Carly Waugh and Kirsten Adamson, led by Dr. Todd France, assistant professor of engineering education, chose to help kids with different physical disabilities by adapting toys to match their capabilities.
The idea stemmed from a workshop France participated in during a conference at Ohio State University that introduced him to the concept of toy adaptation. The topic piqued his interest, and when he took his 18-month-old daughter to the ProMedica Total Rehab Pediatrics center in Toledo, Ohio, he felt compelled to take a more active role. Hess, Waugh and Adamson took to the idea of a toy adaptation EPICS project with gusto, and, thus, Ohio Northern's very first toy adaptation venture began.
"This is all new to me," France says. "I've been a father for a year-and-a-half and have no connection to any type of relatives or friends with physical disabilities, but I think it's neat to look for opportunities within engineering that can help with social problems."
As it turns out, Hess and Adamson have personal connections relating to the project because both have family members with special needs: an uncle and a sister, respectively. The project really got them thinking about the world of play through their loved ones' eyes.
"My uncle didn't have the opportunity to have toys adapted for him," Hess says. "Of course, electronic toys weren't really a thing when he was a child, but it's something he would have benefited from, had the technology and the knowledge been around."
The students divided their work for EPICS into two related projects: toy adaptation and busy boards. A type of stimulation tool for special needs children, a busy board is a flat wooden board loaded with various curiosities for the child to fidget with, such as a door stop, lock or handle.
For the toy adaptation, Hess, Waugh and Adamson each chose one electronic toy to adapt. Adamson chose to adapt a toy with an indented button by rewiring the electronic device to start up instead with a tap light, a domelike backlit button, which is more stimulating and easier for a special needs child to activate. 
As with any new endeavor, the project was a learning process, littered with triumphs and setbacks. All three students knew nothing about toy adaptation going in. Luckily, they had some guidance from students in Ohio State's toy adaptation program who helped them determine which toys to adapt and examples of adaptations applied.
Nevertheless, the project did not come without its challenges. There are a lot of unknowns when it comes to adapting toys. You never know how a child will react, if they will react at all, or if the adaptation will truly accommodate their capabilities.
"A lot of us had some type of struggle, whether it was with our toys or our busy boards, not getting the toy to work right, or something falling off your busy board and breaking," Waugh says. "I think keeping the end result in mind was probably most important and realizing these toys are actually going to help someone. It's not just a normal project that stays within the classroom."
The project also gave them the opportunity to stretch themselves by developing new skills as engineers, dabbling in tasks they don't normally do in their own classes. Hess and Adamson, both civil engineering majors, had the opportunity to practice soldering and wiring work, while Waugh, a mechanical engineering major, honed her 3-D modeling and printing skills.
"I can definitely say I've gotten better at critical thinking, as far as my toy being so complicated," Hess says. "I've had to get really innovative on how I'm going to wire things and solder things together."
But the ultimate reward has been giving back to a cause bigger than themselves. When Adamson really thinks about it, she is helping children by giving them carefree fun.
"I think it just makes things a lot easier for the kids," she says. "Hopefully, when they go to play with these toys, it will be all fun and no frustration, because they can turn their toy on, and they can play with it on their own."
The busy boards and adapted toys have been sent to the pediatric clinic for therapists to use with patients. The busy boards have been especially popular, with patients even taking them home on loan. To make an impact locally, France is hoping to lead students in making busy boards for preschool students in Ada Exempted Village Schools in the near future. 
Without a doubt, toy adaptation is a long process fraught with trial and error, but the way these Polar Bears see it, if even one child benefits from their efforts, it will be well worth it.