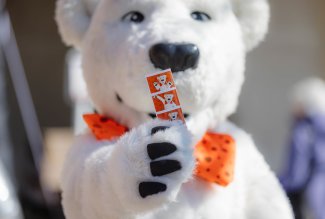 Ohio Northern University is celebrating the 100th birthday of its Polar Bear mascot this March. While we are all Polar Bears, only a chosen few get to put on the Klondike costume and be THE bear at games and university events. We asked a few former Klondikes to share their memories with us.
The big reveal
While the polar bear became ONU's official mascot in 1923, the mascot wasn't named "Klondike" until 1998. And Todd Bailey, BA '01, has the distinction of being the first "Klondike."
Todd works in regional economic development at Huntington Bank, in Columbus, Ohio, supporting the tremendous growth of the advancing manufacturing, semiconductor and EV industries across the bank's Midwest footprint.
"To this day, my time as Klondike comes up in discussion more often than I would have guessed," he says. "It tends to generate a lot of laughter and questions from those who are curious about what it's like to be a mascot. In fact, I still keep it on my LinkedIn profile as a fun differentiator and light-hearted conversation starter."
One of Todd's favorite Klondike memories was Klondike getting outfitted in an oversized black suit and tie to attend formal events honoring the retirement of ONU president, Dr. DeBow Freed. 
On graduation day, two of Todd's professors gave him the idea to slide on the mascot's paws right before he walked across the stage to get his diploma. "It was a big reveal of sorts," he says. "You could hear the laughter from those who caught on."
Todd's birthday greetings to Klondike: "200 is the new 100! Enjoy the next century!"
Making kids smile (or cry)
Jordyn (Walkup) Barnes, BA '20, fondly remembers her time as Klondike from 2018-2020, especially the events involving children. 
Kids usually reacted in one of two ways to Klondike, she says: terrified or super excited. She loved the latter reaction. "Getting big hugs from kids and making them smile was my favorite thing!"
As Klondike, Jordyn also got to participate in the Ada community's successful quest to set the Guinness World Record for the most people throwing an American football simultaneously. 
"Being Klondike definitely brought me out of my comfort zone, but it shaped me into who I am today. I am more outgoing, spontaneous and adventurous because of it."
Jordyn lives in Myrtle Beach and teaches at Mingo Creek Academy in Georgetown, South Carolina. She also coaches the color guard at Carolina Forest High School.
She wishes Klondike the best on this milestone birthday: "Happy Birthday, old friend. Thank you for all the memories!"
A grisly dorm room scene
Matthew Morgan, BA '21, was the ONU mascot all four years of his college career, and now he works in admissions for the ONU Pettit College of Law.
His favorite memory is the night he was airing out the Klondike costume in his dorm room and forgot to lock the door. One of his good friends walked in and got a surprise.
"I'm sure my room looked very strange with the Klondike body parts strewn everywhere," says Matthew. "The body section of the suit was on the empty mattress, the Klondike hands were turned inside out on one of my chairs, and Klondike's head was on my desk"
Needless to say, his friend had some questions. 
"All I could do was swear him to secrecy, and he remained an excellent confidant. In fact, he was such a great confidant, that when I officially revealed myself as Klondike during my senior year, he said he had completely forgotten about it!"
Matthew wishes Klondike the best on his 100th birthday. "Happy birthday! I hope you get many bear hugs on your special day!"
All in the family
For the Matthew Morgan, being Klondike is a family affair. All three –Joanne Berry, BS '14, Nicole (Nikki) Berry, BS '16, and Adam Berry, BSME '18 – donned the ONU mascot costume in college.
Joanne and Nikki loved passing this tradition down the line and taking part in their younger sibling's Klondike initiation ceremony. And all three siblings enjoyed keeping the secret from their friends. 
Joanne says being Klondike taught her to find common ground and connect with people of all backgrounds. "This sentiment is something that's stayed with me," she says. Joanne is a clinical research associate for MDC Associates, Inc., in Massachusetts.
Nikki says wearing the suit taught her to be a better listener. "I LOVE to talk, which is not always a good thing," she says. "While being Klondike, I was literally forced to be quiet, which meant I had to listen more. You gain a different perspective when you listen more." Nikki is now a Ph.D. candidate at Miami University.
And for Adam, his mascot days taught him to be more outgoing. "It seems like the more times we wore the suit, the more outgoing we all became in the suit," he says. Adam is an automation engineer for Caterpillar. 
The three Berrys wish their good friend Klondike the best birthday ever. Says Joanne: "Happy Birthday Klondike! Your legacy has added so much to me personally and to my family. Campus wouldn't be the same without you teaching us how to 'polar bear up' across the Tundra!"