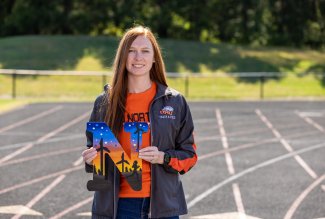 Rebecca Legge, BFA '17, knew exactly how she wanted to decorate her 'N.' By the time she grabbed the slender wooden letter under the Tundra tent during a windy summer day, she had the design thought out and the materials she needed to bring her vision to fruition. During this employee decorating party to celebrate the beginning of Ohio Northern University's Sesquicentennial celebration, Legge's 'N' quickly started to stand out from the others. Paint and plywood were transformed into a colorful image evocative of her running days at Ohio Northern University.
Organizers of ONU's 150th celebration are asking others to get creative by posting photos on social media of their own 'N' art, using the hashtag #LoyalForeverToDearONU. Images will be curated by the College of Arts and Sciences and displayed on campus. For inspiration, Legge's 'N' story illustrates how one's college days can be translated into mediums with nostalgic meaning.
As senior graphic and digital designer for the Office of Communications and Marketing, Legge's artistic skills are practiced each day. In fact, she, along with Nancy Burnett, creative and design services manager, developed the vivid and engaging branding material for the University's sesquicentennial. From the large building banners to the eye-catching selfie walls around campus, Legge and Burnett's talents mixing forward-thinking and traditional designs are on full display.
For Legge's personal 'N' design project, going smaller still resulted in an impressive product.
The backstory: as a high school track athlete, Legge wanted to continue competing in college at a place that was close enough to home to visit every now and then, but far enough away to have her own adventures. She found what she wanted at ONU.
"I was an athlete growing up," Legge explains, and running came naturally. While playing T-ball, she "just wanted to keep running the bases. I always moved at a fast pace," she says. Hurdling grabbed her attention and soon she was fine tuning her sprinting and leaping techniques. Running track in college while focusing on academics and working part-time necessitated careful and concerted time management, lest one or all three responsibilities fall by the wayside. With running, she says, she could mitigate stress while on the track. She also found crucial support from teammates, some of whom became lifelong friends.
Academically, Legge had initially be interested in becoming a teacher. But a visual communication and photography elective course taken senior year of high school changed her mind.
"I was fascinated" with the act of artistically relaying information and telling a story, she says. "I'm a perfectionist, and I found that I could make things even more perfect" with visual design elements and software.
When the 'N' project presented itself, running track immediately came to mind, Legge says. "I have very vivid memories about the time trials for track. It's not a sprinter event, but a distance event. The trials are always held in the evening under the stadium lights before the season starts." Sprinters like Legge attend the trials to support those who are competing.
During one of those competitions, Legge says she recalls how clear the evening sky was. "The stars were beatiful," she says. "Everyone was running around the track. The windmills were behind them. I was supporting them. It was always a lot of fun."
Another reason Legge took special note of the sky that night: an engineering capstone project she was involved with provided additional perspective. The project had focused on light pollution, a problem caused by electrical lighting that negatively impacts nature and obscures its beauty. The capstone project Legge participated in focused on finding solutions and on "how to tell the story about light pollution and the challenge of getting people to care about protecting the night skies."
Years later, Legge remains inspired enough by her running and learning experiences that her 'N' art reflects that. Rather than depicting herself, her 'N' shows another female distance runner silhouetted against a sunset and the windmills located just west of campus near the stadium.
No artistic talent is required, however, to create an 'N' that reflects individual ONU experiences in interesting and indelible ways. Here's Legge's advice for ideas development and execution:
• Work with the dimensions that feel comfortable for you. Consider a 2-D or 3-D project that suits your style, be it painting a wooden 'N' or creating a three-dimensional piece from different mediums.
• Don't overthink it. Consider which memories rise to the top and use those as inspiration.
• Memories don't even have to be specific to be inspiration. Maybe a sound or a scent evokes a strong feeling. Stick with that for a while and think about ways to bring it to visual life.
• Have fun!